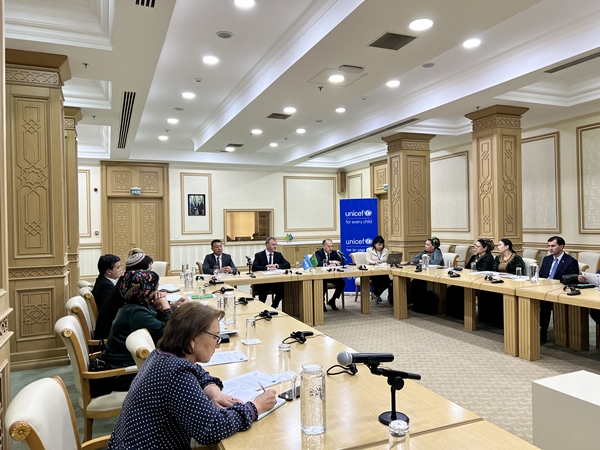 Ashgabat, 17 May 2023 – Establishing child-friendly approaches and positive practices during investigations will protect children from unnecessary trauma, which may occur during repeated interviews or interrogations in the justice process. This was the main topic of discussion during the round table, which was organized today by UNICEF with participation of representatives from the law enforcement entities in Turkmenistan.
The event brought together key stakeholders from the Prosecutor General's Office, Ministry of Internal Affairs, Supreme Court, Mejlis of Turkmenistan and other local experts from government agencies, as well as international partners. The discussions focused on practices and recommendations to amend the criminal procedure legislation along with advantages of applying a child-friendly approach in the justice system and the need for capacity-building of investigators.
Starting from 2022, the Government of Turkmenistan has taken steps to further enhance the protection of child victims and witnesses of crime and introduce modern methods of investigation, including the use of technologies to record the interviews in a friendly environment.
"International standards call for special protection measures for children in contact with the law. This can be achieved by protecting the privacy of children, providing support services, and ensuring safety of children during the investigation process," said Alexandru Nartea, Deputy Representative, UNICEF Turkmenistan. "It is also important to continue to strengthen capacity of justice professionals who will be working with children," he added.
This initiative is implemented with the support of the German Federal Foreign Office and the Embassy of the Federal Republic of Germany, and UNICEF Turkmenistan will continue working with the Ministry of Internal Affairs and other partners to develop child-friendly procedures. ///UNICEF Turkmenistan, 17 May