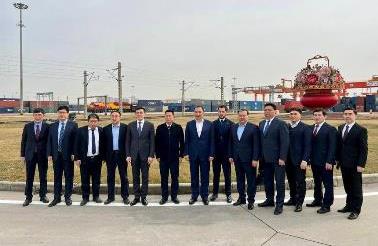 Kazakhstan has decided to build its own terminal at the Xian Dry Port of China, reports Kazakhstan Today.
An agreement was signed on 1 March 2023 in the Xian city on conclusion of a meeting between the mayor of Xian and the head of the delegation of the Kazakhstan Temir Zholy (Kazakhstan Railways).
According to the agreement, the Chinese side will provide 8 hectares of land plot for the construction of a terminal in the territory of the Xian Dry Port.
The parties noted that the city of Xian was the largest transport and logistics hub in China. Xian International Trade and Logistics Park dry port is located in its territory. Forty-percent of the cargo at this dry port comes from Kazakhstan, and 30 percent of containers are formed here of the total volume of container trains shipped from China to EU, reports Kazakhstan today. /// nCa, 2 March 2023 [Imag