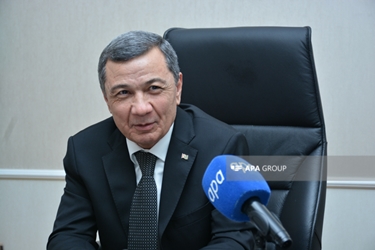 In 2022, the trade turnover between Azerbaijan and Turkmenistan increased fivefold, which is a record indicator. This was stated by the Ambassador of Turkmenistan to Baku Gurbanmammet Elyasov in an interview with the Azerbaijani news agency APA.
 The еnvoy emphasized the dynamic development of bilateral cooperation in political, trade, economic, energy, humanitarian and many other spheres.
According to Elyasov, the Intergovernmental Commission plays an important role in growing cooperation. The sixth meeting of the commission was held in November 2022 in Baku.
He expressed confidence that the outcomes of the Turkmenistan-Azerbaijan–Turkey summit in Avaza in December 2022 will have an impact on the development of transport and transit potential, and in the transformation of the three nations into a single energy hub.
Answering the question about the significance of the deal on joint exploration, development and development of hydrocarbon resources of the Dostlug field in the Caspian Sea, the ambassador stressed that this project will contribute to strengthening energy cooperation between the two countries.
In addition, the project will open a new stage in energy cooperation between Turkmenistan and Azerbaijan in the Caspian Sea, and these are new opportunities for joint work on a solid international legal basis, additional incentives for large foreign investments, the development of the national economies of the two countries, Elyasov commented.
The full text of the interview can be found here: https://apa.az/ru/foreign-policy/posol-sammit-turkmenistan-azerbaidzan-turciya-okazet-vliyanie-na-prevrashhenie-trex-gosudarstv-v-edinyi-energoxab-intervyu-510772
///nCa, 13 February 2023