Ashgabat, 8 September 2017 (nCa) — In a ceremony held Thursday simultaneously at the Galkynysh gas field in Mary and the Olympic Village Ashgabat, the torch of Ashgabat 2017 was lighted up and started its majestic movement toward Ashgabat.
At Galkynysh, the second largest natural gas field in the world, the Games torch came to life when it was touched with the fire from the field.
At the same time, President Berdymuhamedov addressed the sports contingent of Turkmenistan at the Olympic Village in Ashgabat as the lighting up of the torch was shown live through the video link.
In ten days – on 17 September 2017 – the torch will reach the Olympic Village for the launch ceremony of Ashgabat 2017. That will also be the end of the 500-days journey of the torch through all the provinces of Turkmenistan.
The unlighted torch started on the countrywide circuit on 5 May 2016, carried by a select group of Ahalteke horse riders, taking about 100 days to weave through each province. —– 250-days, 200-days, 100-days and 50-days countdown to the Games were celebrated as milestones in the travel of the torch toward the Games venue.
Thursday morning, the area of the Galkynysh field where the torch was brought to life had been turned into a giant replica of the culture, traditions and way of life of Turkmenistan. From arts and craft to cuisine and attire, everything that forms the rich Turkmen tradition was on display.
The lighting up of the torch also reminded of a subtle connection to a very important part of the history of the land that is now Turkmenistan. —– Zoroastrianism, a religion where fire is depicted as the symbol of the divine power and therefore worthy of worship, is believed to have started in Margush in the third millennium BC. The Temple of Fire has been discovered by the archeologists at Gonurdepe, the capital of the ancient state of Margush, located in the Mary province of Turkmenistan, not far from the Galkynysh gas field.
Connection with the past has actually been a recurrent theme at every step in going forward to Ashgabat 2017. The journey of the torch at 500-days countdown started from Nisa, the fortress city near Ashgabat that was the seat of the Parthian civilization and believed to have been founded in the third century BC.
President Berdymuhamedov, in his speech to the Turkmen athletes, as they watched the torch lighting ceremony on a giant screen, reminded of these and other significant bits of history of the land and people of Turkmenistan.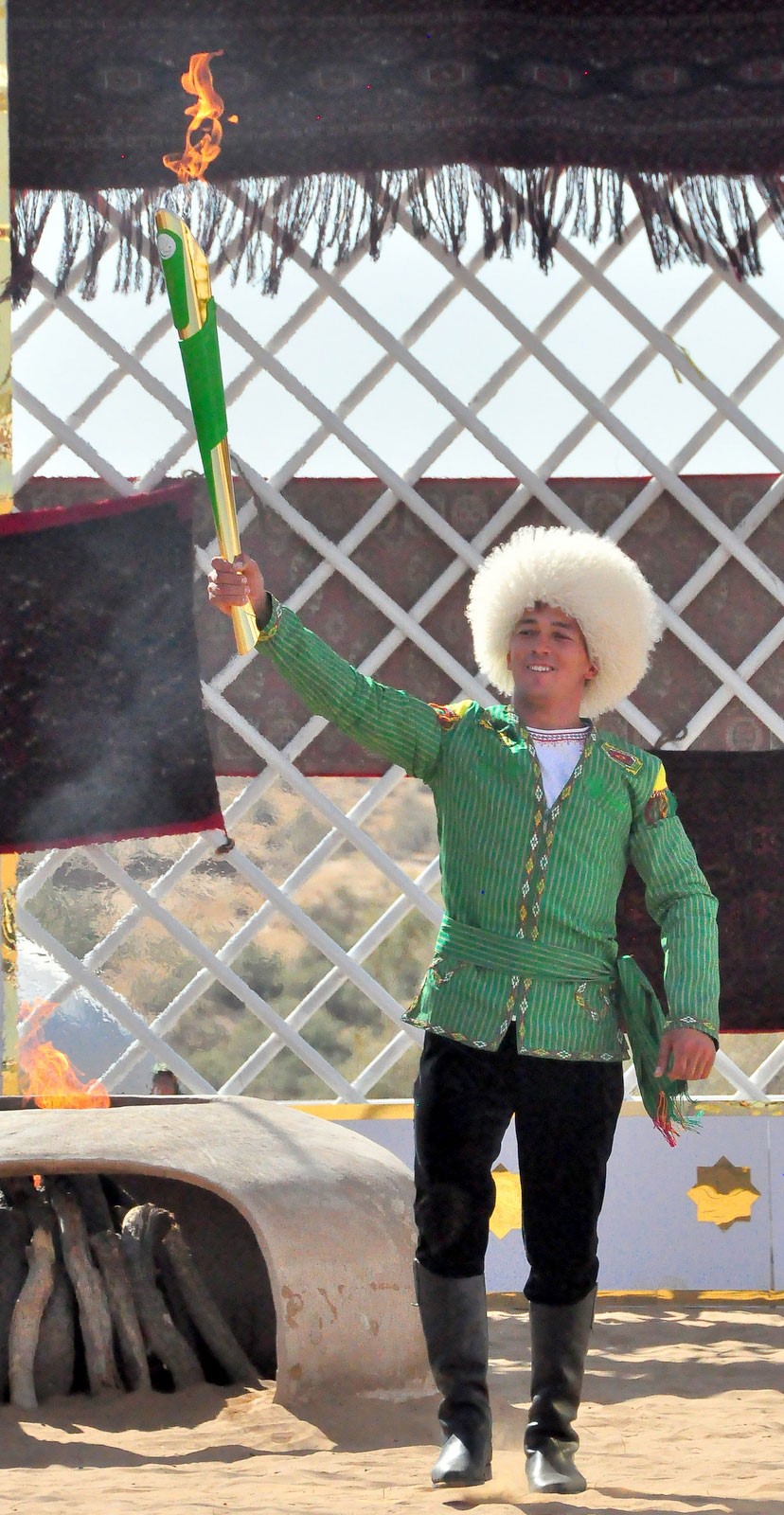 The Turkmen president said that Ashgabat 2017 embodies the unity, cohesion, peacefulness and friendship as 65 teams will participate in the Games – 45 from Asia, 19 from Oceania and one team of refugees and stateless persons.
"Sport is a source of strength, beauty and health. It is an inexhaustible force that inspires the person to achieve high goals," said President Berdymuhamedov.
During the same ceremony a representative of the Guinness Book of Records presented the certificate, recognizing the Ahalteke bust at the Olympic Village as the largest artistic depiction of a horse, and the main swimming pool of the Olympic Village as the largest indoor swimming pool in the world. /// nCa