nCa Report
If we can implement all of the planned projects, then there will be no disputes, no differences; there will be no war. – Berdymuhamedov
* * *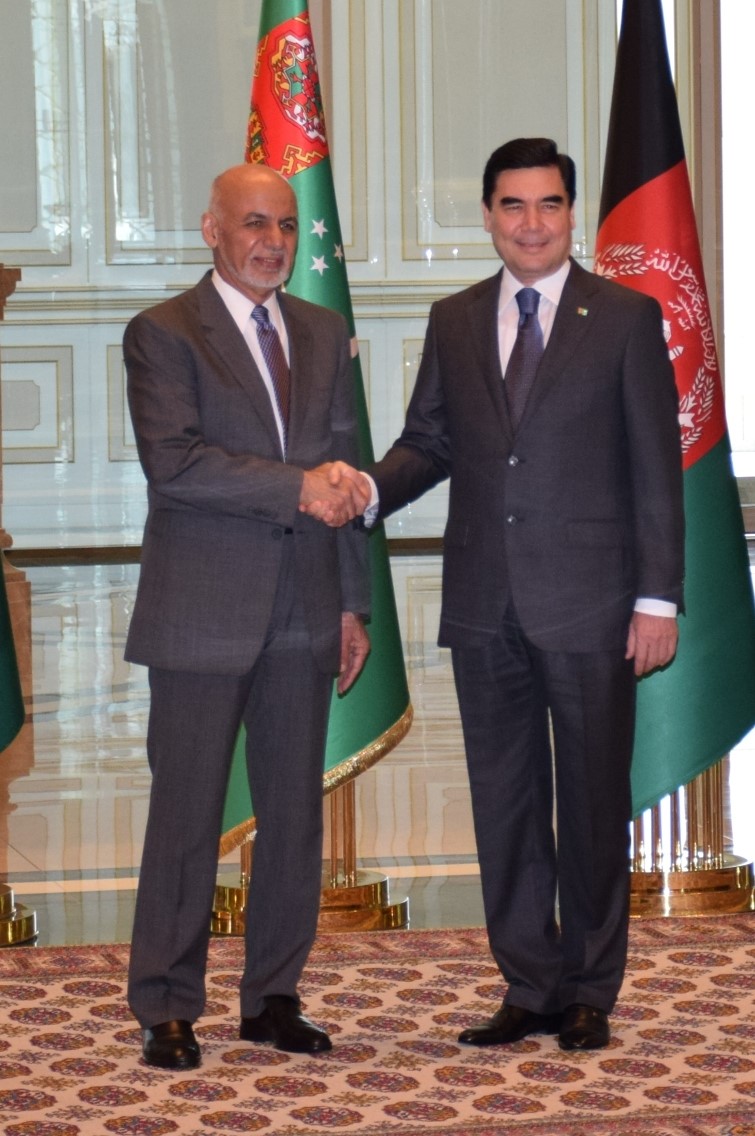 Ashgabat, 4 July 2017 (nCa) — President Ashraf Ghani of Afghanistan visited Turkmenistan for a day-long official visit on Monday, 3 July 2017. It was a visit full of substance.
The concluding remarks of President Berdymuhamedov at the joint press conference fairly sum up the augmented and redefined resolve for peace and development: If we can implement all of the planned projects, then there will be no disputes, no differences; there will be no war.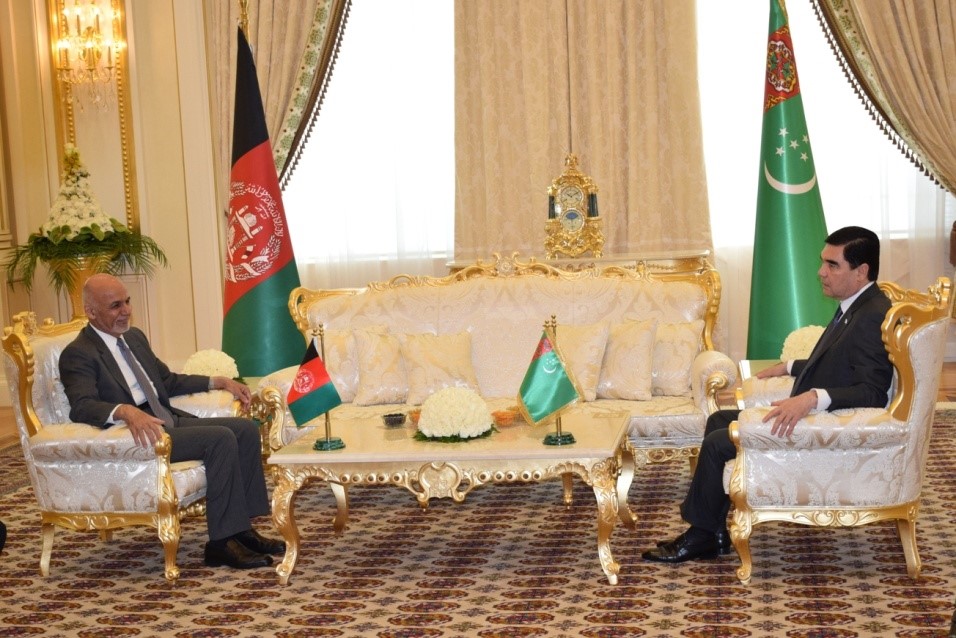 Here are the outcome points from the summit talks and the press conference:
TAPI as centre piece of new corridor: In their statements to the media, the presidents of Turkmenistan and Afghanistan pointed out that the concept of TAPI had grown to the level of a corridor. In their similar remarks, Berdymuhamedov and Ghani said that in addition to the gas pipeline, there would be road link, railway line, fiber optics connection, and electricity lines. The Turkmen president said that Pakistan and India had agreed to the establishment of electricity and fiber optics links and there was consensus for building the railway line and the road along the route of TAPI.
Reconstruction of Serhetabat-Torgondi railway link: Turkmenistan will provide technical support and expertise for the reconstruction of the Serhetabat-Torgondi railway segment. Serhetabat, formerly called Kushka, is the border point of Turkmenistan with Afghanistan. Torgondi (also spelled Torghundi) is a town located directly opposite Kushka inside the territory of Afghanistan. The Kushka-Torgondi rail link was built in 1960 during the soviet times. This 1520 mm gauge link was restored for service in 2007 with the help and financing of Turkmenistan. Now the sides want to upgrade it and expand its scope, linking it with the industrial areas of Mary province of Turkmenistan. After upgrading, Torgondi will also gain higher significance in the emerging trade and development matrix of Afghanistan.
TAP and TUTAP electricity transfer grids: Turkmenistan and Afghanistan expressed their shared resolve to work together for the implementation of TAP (Turkmenistan-Afghanistan-Pakistan) and TUTAP (Turkmenistan-Uzbekistan-Tajikistan-Afghanistan-Pakistan) electricity supply networks.
Line D of Turkmenistan-China gas pipeline: President Berdymuhamedov said that the route for the fourth line (Line D) of the Turkmenistan-China gas pipeline network was being considered actively. He said that two routes were under consideration – Turkmenistan-Afghanistan-Tajikistan-Kyrgyzstan-China, and Turkmenistan-Uzbekistan-Tajikistan-Kyrgyzstan-China, with preference for the first route, which will see another gas pipeline in addition to TAPI passing through the territory of Afghanistan. If this materializes, it will help meet the energy needs in the northern areas of Afghanistan.
Trading house in Mazar-e-Sharif: Turkmenistan will open its trading house in Mazar-e-Sharif cit of Afghanistan. This will help boost the export of Turkmen products to Afghanistan. The trade turnover between Turkmenistan and Afghanistan in 2016 was USD 547 million.
Peace and security: Turkmenistan and Afghanistan vowed to work together for peace and security in Afghanistan and the region. Underlining the inalienable connection between development and security, the sides said that they will cooperate bilaterally and also in the framework of international and regional organizations such as the United Nations, NAM, OIC and ECO.
It was stated that cooperation will continue to combat international terrorism, extremism, drug trafficking, cross-border crimes.
RECCA conference: The 7th Regional Economic Cooperation Conference on Afghanistan will be held 14-15 November 2017 in Ashgabat.
Export of Afghan marble: Afghanistan offered to export its marble and onyx to Turkmenistan. Afghanistan has considerable deposits of marble and onyx but they have still not been mapped reliably. Also, there is the lack of modern extraction and processing technologies and know-how.
* * *
Peace talks in Turkmenistan: Turkmenistan has offered a number of times to host the Afghan peace talks in Ashgabat. The offer was repeated as recently as the visit of the UN secretary general to Turkmenistan last month.
Even though the presidents of Turkmenistan and Afghanistan did not mention this subject in their press conference, nCa learned in conversation with some senior members of the Afghan delegation that Afghanistan fully supports this idea. In their view, it will afford the environment where the talks, under the auspices of the United Nations, can be held without any interference or distraction.
It is an idea worth following seriously.
* * *
Turkmenistan and Afghanistan signed several bilateral documents:
Cooperation programme between the ministries of foreign affairs of Turkmenistan and Afghanistan for the period 2018-2019
Memorandum of understanding on cooperation in carpet industry
Agreement on international road transport
Agreement on international railway checkpoint at Turkmen-Afghan border
Terms of railway transportation between Imamnazar and Akina border stations
Agreement on cooperation between the ministry of energy of Turkmenistan and ministry of energy and water resources of Afghanistan on supplies of Turkmen electricity to Afghan provinces of Badghis and Jowzjan
Agreement on cooperation in science and education between Turkmen state university and university of Afghanistan located in Jowzjan province
President Berdymuhamedov and President Ghani signed a joint statement.
* * *
Before departure back to Kabul in the evening, the Afghan president looked at an equestrian show, and paid respect at the national memorial complex. Berdymuhamedov hosted a dinner in the honour of the visiting delegation. /// nCa