Rawiliya Kadyrova
The literary critics and historians of Germany this year have contributed magnificently to the celebration of the 290th anniversary of the Turkmen national poet Maktumguly.
A collection of articles "Maktumguly through the eyes of the Germans" was prepared jointly by the Embassy of the Federal Republic of Germany to Turkmenistan and National Institute of Manuscripts of Turkmenistan. This tastefully printed and handsomely bound book has been published in the Turkmen, Russian and German languages.
The book includes the articles written by German Orientalists who have comprehensively analyzed the poetry of Maktumguly Fragi and discovered new aspects from the German point of view.
Dr. Sigrid Kleinmichel has studied the poetry of Maktumguly with the refrain word 'yahşi'. Her article provides the detailed analysis of the ideological content and literary stylistic technique 'goşgy,' used in the poetry of Maktumgulu. "Some poets will revisit the verses of Maktumguly, floating between precept and humour. The type of poems and songs with 'yahşi' are bound to live a very long time", said Dr. Sigrid Kleinmichel.
Orientalist Annegret Bayer in her article covers the literary work of Maktumguly. In particular, her work deals with the influence of Sufism on poetry and the poetic mission of Maktumguly in the literature of Central Asian nations.
Bayer concludes that "at closer examination of Magtymguly poetry, he appears as a completely secular teacher of his time, who does not use the knowledge of the language of images passed from generation to generation to describe according to well-known pattern, but creates something of his own by the secularization of themes."
Wolfgang Günter Lerch in his article "Maktumguly Fragi – the national poet of the Turkmen" suggests the idea that the poet "drew inspiration" from the "treasure of Oguz poetic tradition – the epic Gorkut Ata."
Ambassador of Federal Republic of Germany to Turkmenistan, Wolfgang Brett, who is also a historian, looks at the Maktumguly epoch in the historical context. In his opinion "the time of Maktumguly can be understood if we consider the 18th century in its entirety."
The poetry of Maktumguly is rich and multifaceted. His poems are the encyclopedia of the people's life. They reflect historical events, life, customs, laws and cultural traditions of the Turkmen society.
Maktumguly holds a high position not only in the Turkmen literature, but generally in the world literary heritage. This is evidenced by the inexhaustible interest to the works and life of the great poet far beyond the borders of Turkmenistan and Central Asia.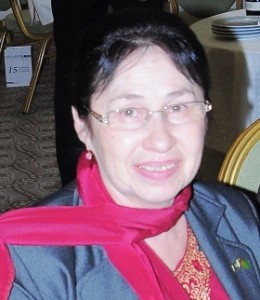 Ms. Rawiliya Kadyrova is the deputy editor of nCa