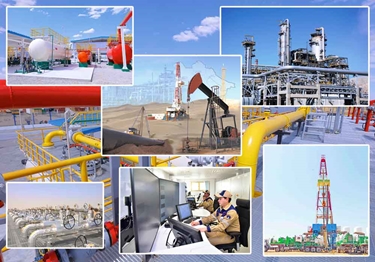 Driven by investments in geological exploration and the development of new oil and gas wells, Turkmenistan is witnessing a surge in natural gas and oil production at its major gas fields.
At well No. 29 of the Tagtabazar-I gas field in Mary province, an industrial inflow of sulfur-free gas has been successfully obtained, according to TDH reports. The capacity of the well is 226,400 cubic meters of natural gas and 6.04 tons of gas condensate per day.
In the Balkan province, drilling operations at the Uzynada field have also yielded positive results. Three wells in this field have delivered an inflow of gas condensate with an average capacity exceeding 60 tons per day.
Additionally, the State Corporation "Turkmengeologiya" has successfully drilled well No. 312 at the Galkynysh gas field, resulting in an inflow of natural gas. This well's productivity stands at 1.7 million cubic meters of gas per day, with further growth anticipated.
Turkmenistan, with its vast natural resources and rich hydrocarbon deposits, is committed to utilizing these resources for the benefit of all humanity. The country emphasizes the demand for high-quality, environmentally friendly, and competitively priced products, which are in high demand both domestically and internationally, TDH report says.
The fuel and energy complex has been tasked with ambitious goals, including:
Expanding exploration activities to identify new oil, gas, and other natural resource deposits
Conducting geophysical surveys and drilling exploration wells within known deposits in the country
Developing 3D modeling methods for field seismic complexes and software that will enable the introduction of 4D monitoring technology in the future to optimize oil and gas production from existing fields. ///nCa, 17 November 2023
#gas, #Turkmenistan, #gas_production, #Galkynysh_field