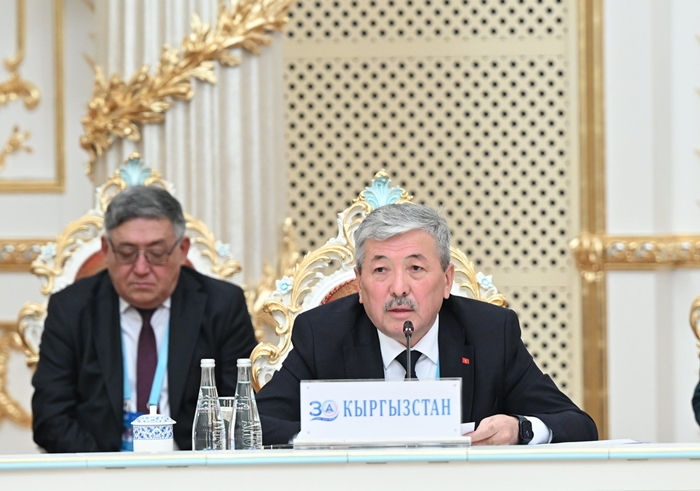 Kyrgyzstan hopes for its full-fledged resumption of activities in the International Fund for Saving the Aral Sea (IFAS), provided that the interests of all countries in the region are equally and fairly taken into account. The statement came from the First Deputy Chairman of the Cabinet of Ministers of the Kyrgyz Republic Adylbek Kasymaliyev, who represented Kyrgyzstan at IFAS summit in Dushanbe on 15 Sep 2023.
During the meeting, he noted that despite the fact that the Kyrgyz delegation participates in the Summit as an observer, the Kyrgyz Republic remains committed to the development of constructive and mutually beneficial regional cooperation.
"Kyrgyzstan is promoting initiatives at the international level aimed at sustainable mountain development, the preservation of glaciers and the formation zone of water resources," Kasymaliyev stressed.
In this context, the Kyrgyz side proposed to join efforts in the effective use of water and energy resources, increasing the resilience of this sector to various natural and anthropogenic impacts.
"Considering the formation of about 40% of the water resources of the Central Asian region on the territory of Kyrgyzstan, we are aware of our high responsibility in the issue of water supply to the region. Today we are changing our approach in water policy from user to environmental, the essence of which is to protect the zone of formation of water resources, the safety of hydraulic structures, the creation of an economic mechanism for the preservation of a unified ecological system and sustainable development," Kasymaliyev said.
The Kyrgyz side welcomed the adoption of measures to restore the Aral Sea, emphasizing the importance of revising the existing regional structures of the Fund and the main directions of their activities, focusing on the full implementation of the principles of integrated water resources management, taking into account the economic, social, energy, environmental and other values of water resources in the region.
Kasymaliyev noted that Kyrgyzstan has been participating in meetings of the regional working group on improving the structure and legal framework of IFAS as an observer since 2021. Kyrgyzstan believes that the number of working bodies should be reduced to "solve big problems in a small number."
"In our opinion, one of the most important tasks IFAS is the creation of an economic mechanism for water use, designed to ensure the management of risks and challenges and demand for water in the region," the representative of Kyrgyzstan said.
Kyrgyzstan, in the light of its "frozen" participation in IFAS, also emphasizes the importance of reforming the International Fund for Saving the Aral Sea, so that this process ensures the formation of a highly effective and transparent activity of the new regional structure.
Kazakhstan, as the future chairman of IFAS, expressed hope that Kyrgyzstan will resume full participation in the Fund. President Tokayev positively assessed Bishkek's involvement in the work of the IFAS improvement working group. "In the future, we will be glad to see the chairmanship of fraternal Kyrgyzstan in the Fund," he said.
Kyrgyzstan has suspended its participation in IFAS since 2016, claiming the Fund's failure to consider the hydropower aspects of water use and the needs of individual Central Asian states. ///nCa, 15 September 2023
#Aralsea, #IFAS, #International_Fund_for_Saving_the_Aral_Sea, #Tajikistan, #Turkmenistan, #Kazakhstan, #Kyrgyzstan, #Uzbekistan, #CentralAsia,