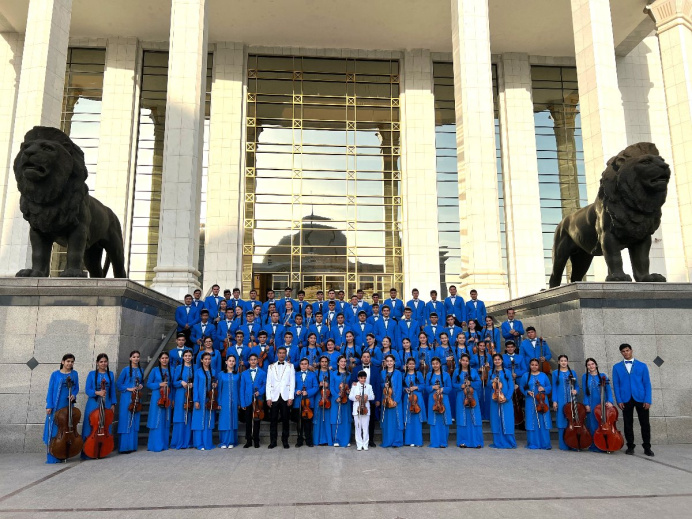 The Youth Symphony Orchestra of Turkmenistan will perform with a gala concert in Ashgabat on 27 May in Ashgabat at the Mukams Palace. The musical event is timed to the Children's Protection Day and organized with the support of the Ministry of Culture of Turkmenistan, Orient reports.
The orchestra consists of about 100 young musicians from Ashgabat and from five provinces of the country. They got into the project on a competitive basis. The national contest for the Youth Orchestra took place in the music schools across the country.
300 performers have been enrolled the children's choir. The program of the choral part of the concert include famous songs by Turkmen, Russian and foreign composers, as well as hits from the collection of world famous cartoons and films such as  "Avatar", "Moana" and others.
The orchestra is preparing for a grand performance. For many young musicians, this will be their debut on the big stage. According to Rasul Klychev, one of the authors of the project, the conductor of the State Symphony Orchestra of Turkmenistan, the children "every day at rehearsals and get acquainted with the inner life of the orchestra, gain musical skills and experience in order to get into the State Orchestra in the future."
The Youth Orchestra will perform famous works by Turkmen and foreign composers, as well as popular musical compositions from the repertoire of the State Symphony Orchestra.
The project of the Youth Symphony Orchestra was launched five years ago. This year, a new team was formed. Today, about 100 young talented musicians take part in the orchestra. ///nCa, 23 May 2023 [photo credit – Orient]