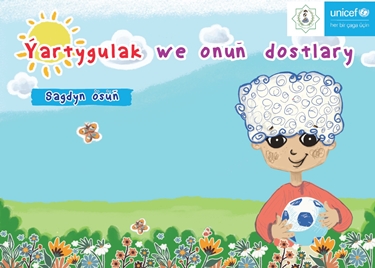 Ashgabat, 19 May 2023 – UNICEF in partnership with the Ministry of Health and Medical Industry released a children's book "Yartygulak and his friends" to help the youngest people of Turkmenistan develop healthy habits from the early age.
Yartygulak – a well-known national hero – and his friends, take the children on an adventure to a healthy lifestyle through interactive games, coloring exercises, riddles and more. The fun, colorful and entertaining book is created for children aged primarily 4-10 years old, but anyone can benefit from the valuable advice and tips from the little hero and his friends.
Please visit UNICEF Turkmenistan website to download a free ready-to-print copy in Turkmen and Russian languages.
This publication was possible thanks to the funding contribution from the Government of Turkmenistan and the World Bank in the framework of Turkmenistan COVID-19 Response Project. ///UNICEF Turkmenistan