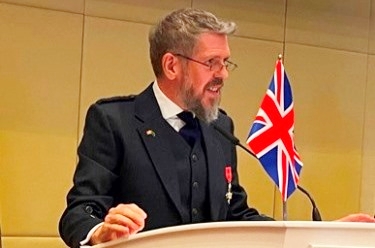 John Hamilton, the Chargé d'affaires of the British Embassy in Ashgabat, hosted a reception on 6 May 2023. It was timed to coincide with the ceremonies taking place in London for the coronation of King Charles III.
The large screens in the banquet hall beamed the transmissions live from London. The atmosphere created by the décor added to the feeling of virtual participation in the coronation ceremonies.
Hamilton made a brief speech. Speaking about the coronation, he said, "There will be many historic traditions, including of course the crowning of Their Majesties. But, Their Majesties have also introduced personal touches that look to the future. 800 representatives of charities working on youth, community, diversity and sustainability will be the first ever members of the public invited to a Coronation. For the first time, there will be a prominent role for Muslim, Hindu, Sikh, Buddhist and Jewish leaders. These personal touches give us an insight into how King Charles III will shape his reign."
He read a short message from the King:
As my wife and I mark this very special moment, we want to thank all of you in the Commonwealth and throughout the world, for your good wishes.
We have been hugely inspired by the community spirit on display at Coronation celebrations such as this, and are deeply touched by the many similar events taking place across the globe.
We want to express our warmest gratitude to all our friends for your kindness as we embark on this new chapter with you.
"It is a great honour that His Excellency President Serdar Berdimuhammedov is attending the Coronation. This is his first official visit as President to a 'western' nation. Yesterday, at Buckingham Palace, he joined the King, Queen Consort and over 140 other Heads of State at a reception at Buckingham Palace and will be present in Westminster Abbey today with Ambassador Seryaev," said Hamilton.
Here are some pictures. First, a few pictures from the coronation ceremony and then the pictures from the reception in Ashgabat: