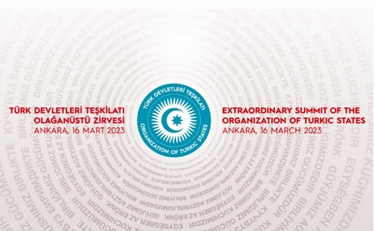 Upon the proposal of Azerbaijan the Extraordinary Summit of the Heads of State of the Organization of Turkic States will be held in Ankara, Türkiye on 16 March 2023, OTS said in a press release.
Hosted by the President of Türkiye, Recep Tayyip Erdoğan, the Summit is expected to be attended by the Heads of State / Government of the Member and Observers of the OTS as well as the OTS Secretary General.
Turkmenistan, being an observer country, will be represented by National leader of Turkmen people, Chairman of People's Council Gurbanguly Berdimuhamedov.
Devoted to the theme of "Disaster-Emergency Management and Humanitarian Assistance", the Summit will serve as a high-level platform for the discussion of the extraordinary agenda of the Organization aroused due to the recent earthquake disaster happened in southern and southeastern regions of Türkiye. The Leaders will elaborate on devising solid multilateral cooperation and coordination mechanisms within the framework of the Organization in the fight against disasters as well as hold consultations on current challenges in the region.
As known, the Member and Observer States of the Organization of Turkic States have shown great solidarity and extended their helping hand to Türkiye in this difficult period and strengthened the brotherhood ties with the search and rescue teams and humanitarian aid they have provided throughout this time.
At the end of Summit program, the Heads of State will ink the Ankara Declaration.
Prior to the Summit, the Council of Foreign Ministers of the OTS will meet in Ankara in the morning of the same day, in order to carry out the final work on the agenda items to be discussed by the Heads of State.
Members of the Council of Elders of the OTS headed by Binali Yıldırım, as well as the Presidents and Secretaries General of the Turkic Cooperation Organizations will also attend the Extraordinary Summit. ///nCa, 15 March 2023