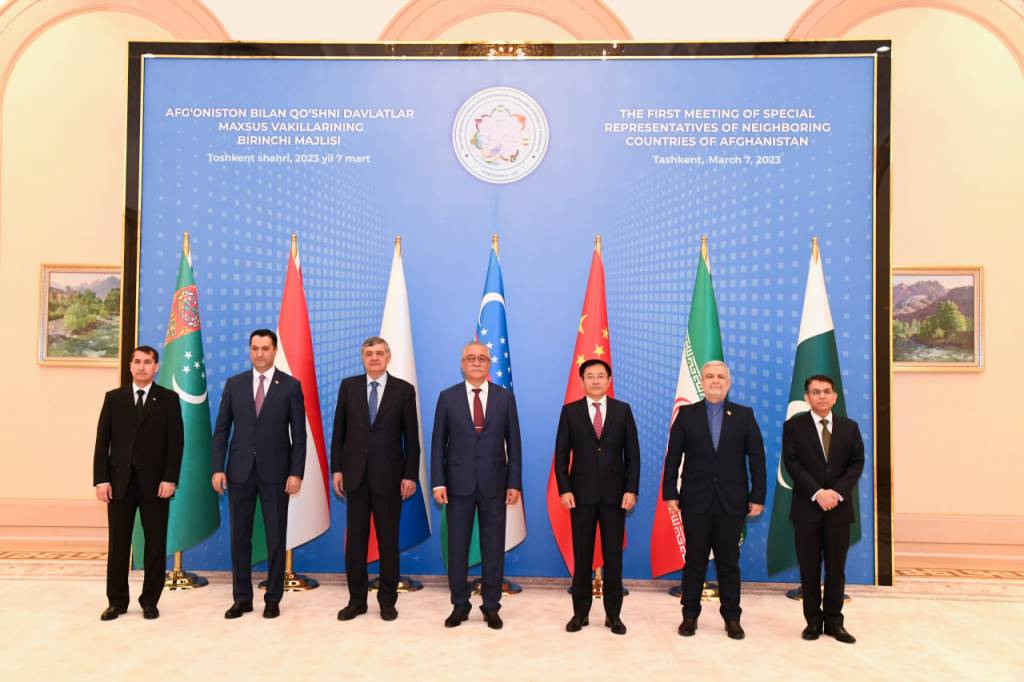 On 7 March 2023, the first meeting of special representatives of the neighboring states of Afghanistan took place in Tashkent. The event was attended by representatives of Uzbekistan, Iran, China, Pakistan, Tajikistan, Turkmenistan and Russia, the Uzbek Foreign Ministry reports.
According to the press release, the key emphasis was placed on the timely provision of humanitarian assistance to the country, more active participation of Afghanistan in the process of regional connectivity, and the revision of discriminatory measures against Afghan women by Kabul authorities.
The sides stressed that ensuring the right to work and education for Afghan women should become an integral part of the new society of Afghanistan and contribute to the final establishment of peace and stability in the country.
The delegations welcomed Uzbekistan's initiative to establish a high-level International Negotiating group under the auspices of the UN to prepare and coordinate with the Afghan authorities an algorithm for the phased implementation of the obligations of the parties.
The participants also called on the current Afghan authorities to take more effective measures to combat terrorist groups, prevent the growth of the drug threat, and intensify the fight against drug production and trafficking.
According to Afghan media reports, the special representatives called on Western countries to unfreeze the assets of the central bank of Afghanistan.
"The representatives of these countries emphasized that the return of the money of the Central Bank of Afghanistan should be used primarily to pay the salaries of… school teachers and doctors, and at the same time to support the part of the population which is in a difficult situation," Khaama Press quotes Ismatullah Irgashev, Special Representative of the President of Uzbekistan for Afghanistan.
Almost 25 million people in Afghanistan are starving and deprived of food.
The meeting took place in the absence of representatives of the Taliban movement in Tashkent. But, as noted by the Afghan media, the authorities of the Islamic Emirate welcomes any meeting that benefits Afghanistan. "All meetings held for cooperation and assistance with Afghanistan in the field of humanitarian issues, and for strengthening the government, and in all other areas which are effective for the country", Bilal Karimi, deputy spokesman for the Islamic Emirate said, according to TOLO news.
The participants of the Tashkent meeting agreed to hold the 4th meeting of the foreign ministers of Afghanistan's neighboring countries in Uzbekistan in accordance with the Tunxing Declaration.
Following the meeting, a joint statement was adopted. ///nCa, 9 March 2023