President Serdar Berdimuhamedov met Monday, 5 Sep, with the Secretary General of the Organization of Turkic States Baghdad Amreyev.
Amreyev briefed Turkmen leader on the Organization's current activities and the ongoing cooperation processes with Turkmenistan.
The sides discussed the pressing topics of the international and regional agenda.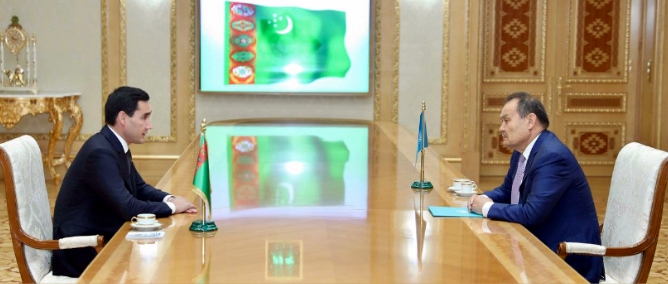 The Secretary General highlighted the development of solid legal frameworks for effective multilateral cooperation among the member countries. Particularly, the importance of finalizing the Agreement on International Combined Freight Transportation, Agreement on Simplified Customs Corridor, Free Trade Agreement in Services and Investments, and Agreement establishing the Turkic Investment Fund was emphasized.
President praised the significant achievements of the OTS in maintaining multifaceted cooperation between the Turkic nations and expressed his support to the efforts of the Secretary General.
Serdar Berdimuhamedov shared with the OTS Secretary General his vision for developing existing cooperation mechanisms and creating new ones, especially in the economy, transportation, and energy sectors, youth, culture, education, tourism, and health.
Good opportunities for cooperation are also emerging, with the Turkic investment fund being established within the Organization's structure.
The sides also discussed the preparations for the upcoming OTS Summit, to be hosted by Samarkand, Uzbekistan, on 11 November 2022. Amreyev told about the crucial issues on the Summit's agenda.
He expressed hope that Turkmenistan's role would enhance during and in the aftermath of the Summit.
The President underlined his confidence that the upcoming OTS summit in Samarkand would represent another significant development for advancing the Organization's initiatives and fostering the unity of the Turkic World. ///nCa, 6 September 2022