On Saturday, 25 Jun, the head of upper house of Turkmen Parliament Gurbanguly Berdimuhamedov visited the construction site of the administrative center of Akhal province. During the presentation, he looked through the images of electric cars that will be used as taxis in the new city. They included JAC-eJ7, JAC-eJS4, MAN TGE Combi Van.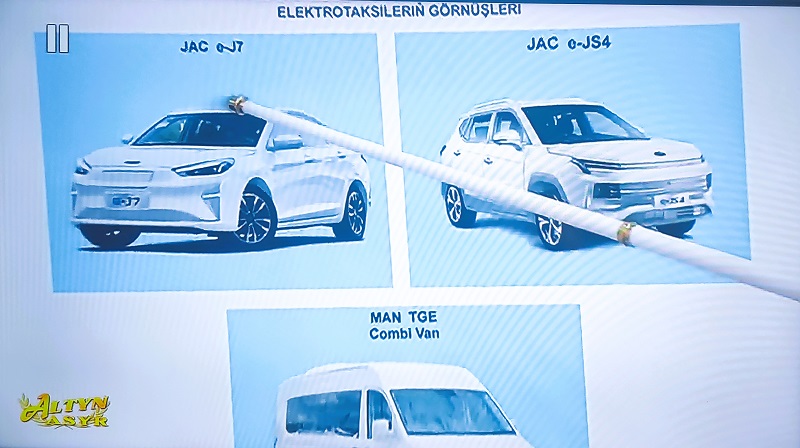 JAC-eJ7 electric car has a power of 193 horsepower, a torque of 340Hm, the modern all-electric sedan from JAC Motors. As with all electric motors, the advantage of the E-J7 all-electric sedan is that it provides instantaneous torque. The power reserve on a single charge averages 402 km.
JAC-eJS4 electric car has outstanding advantages: a power reserve of 420 km on a single charge, batteries with a maximum capacity of 55 kWh, power – 150 hp, torque – 340 Hm, acceleration from 0 to 100 km/h in 7.5 seconds, and the cost of a kilometer traveled is six times lower than that of its rivals with internal combustion engines.
These electric vehicles are manufactured by the Chinese company JAC Motors, which is one of the five largest Chinese car manufacturers. JAC Motors exports its products to South America, Europe, Africa and Asia, and has 19 international industrial bases, including in Kazakhstan and other countries of the world.
The MAN TGE Combi Van from the German manufacturer MAN offers space for up to nine passengers and enables wheelchair-accessible transport of persons with reduced mobility. The advantages of this car: the maximum torque is 290 Hm, the power reserve for everyday use is 120-130 km, 100KW electric motor, silent and emission-free operation. ///nCa, 26 June 2022, (photo source – sreenshot form Turkmen TV)