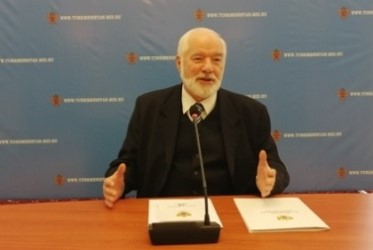 Elvira Kadyrova
Ambassador Aleander Blokhin of Russia told journalists on 24 December 2021 in Ashgabat that Russia may increase the purchase of natural gas from Turkmenistan next year.
He noted that the gas exports from Turkmenistan to Russia will be very strong this year.
According to the Ambassador, compared to 2020, gas exports are likely to double and will reach 10 billion cubic meters.
Concerning for the indicators for next year, Ambassador said that this issue is a subject of negotiations, since the basic agreement has been concluded for a specific period, and then the parties would determine the parameters – volumes, cost of supplies.
During the Q&A session, Blokhin was asked how Moscow views the possible export of Turkmen gas to Europe.
"This is a matter for Turkmenistan," the diplomat responded, emphasizing that it is a difficult task that should not be viewed as an end in itself.
He noted Turkmenistan's sufficient diversified export opportunities, since Turkmenistan sells gas to China, Russia, and in the future to Iran. Negotiations are underway on spot supplies to Armenia. In addition, the TAPI gas pipeline is on the agenda, which will pump 33 billion cubic meters of gas. There are agreements with China to increase supplies to 60 billion cubic meters per year.
When asked about the possibility of Turkmen gas transiting through Gazprom's gas transmission system to Ukraine and Belarus, Blokhin stressed: "Gazprom's pipe is its property. And Gazprom decides who to let through and who not to let through for economic reasons. This is an economic issue". /// nCa, 27 December 2021