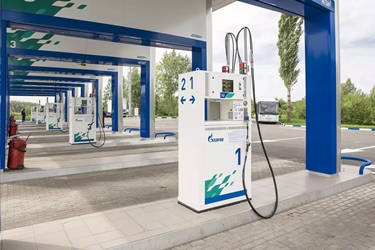 Currently there are more than 260000 vehicles in Russia, equipped with conversion kits, that are using natural gas as the primary fuel for propulsion.
Their total consumption of gas in 2022 was 1.5 bcm (billion cubic meters).
This was told by Vitaly Anatolyevich Markelov, Deputy Chairman of the Management Board and Head of Department of PJSC Gazprom, in his interview with Gas Industry, the inhouse magazine of Gazprom. The interview appeared in January 2023 issue of the magazine.
There are more than 700 filling stations in Russia serving the vehicles converted for gas. Such vehicles almost always retain the capability to use petrol or diesel in case the gas runs out during the travel.
Of the vehicles converted to gas, 59% are passenger cars, 20% light commercial vehicles, 13% buses, and 8% mainline freight transport.
Use of natural gas in railway and water transport
Gazprom is also experimenting in cooperation with other state corporations to use natural gas in the railway locomotives and water transport.
In 2022, Gazprom, together with the Sinara Group, put into trial operation the first mass-produced LNG-powered shunting diesel locomotive. The tests were carried out in Orenburg, the locomotive showed very good results.
In addition, there are the prospects for the use of GMT in river transport. The corresponding agreement was signed on December 30, 2022 by Gazprom, the Ministry of Industry and Trade of the Russian Federation, the Government of St. Petersburg and JSC United Shipbuilding Corporation. /// nCa, 2 February 2023