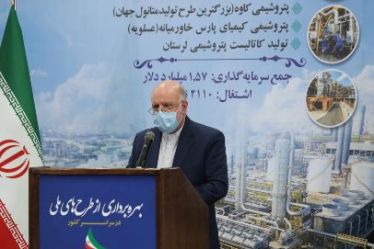 Iran is planning to inaugurate 27 petrochemical projects by 1 March 2021 with total value of USD 17 billion. This was reported by the specialized news service of Iran, Shana, on 6 August 2020, quoting the Iranian minister of petroleum, Bijan Zangeneh.
Zangeneh, who was addressing the launch ceremony of 3 petrochemical projects, said that the country's petrochemical revenue would reach $25 billion by 2021 and $37b by 2024.
The projects in queue include those related to methanol and catalyst production and 13 other objects. The overall petrochemical production capacity of Iran will increase by 25 million tons per year when these projects come into service.
By 21 March 2021, the value of petrochemical products produced locally will reach USD 25 billion per annum. This will rise to USD 37 billion per year by 21 March 2024. /// nCa, 8 August 2020 [picture credit Shana]