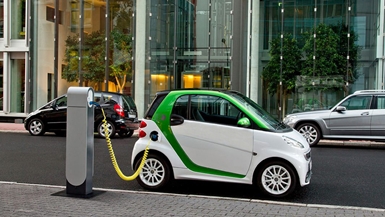 nCa Report
The global electric vehicle (EV) market is growing impressively.
According to a report by Altenergymag, The global electric vehicle market size was USD 170 billion in 2021, grew to USD 208.58 billion in 2022, and will reach USD 1103.17 billion in 2030, with a CAGR of 23.1% from 2022 to 2030.
Electric Vehicle Market Size 2022-30
https://www.precedenceresearch.com/electric-vehicle-market
Counterpoint Reaearch has summed up some highlights of EV market. Here are the quotes from their report issued on 16 December 2022:
Global highlights:
Global passenger electric vehicle* (EV) sales grew 71% YoY in Q3 2022

Three of the top five best-selling EV brands are from China, where they predominantly operate

EV global market share is consolidating, with the top five brands approaching 50% market share

Domestic growth is propelling BYD's EV global market share to 20%

Tesla market share is falling on the back of higher, affordable segment shipment growth globally

Global electric vehicle market share constituted over 15% of the world's passenger vehicle sales in Q3 2022
Brand highlights:
BYD Auto remained the global market leader, shipping more than 537,000 EV units, an increase of 197% YoY. Its top three models – BYD Song, BYD Qin and BYD Han – contributed to over 56% of the company's sales during the quarter. BYD's overseas operations have been picking up fast; it sold almost 17,000 EV units across various regions including Europe, Latin America, Southeast Asia, Middle East and Africa, and Oceania in Q3 2022.
Tesla's global sales grew 43% YoY in Q3 2022 to over 343,000 units. The company saw increased demand for its vehicles in Europe this quarter. The smoothing production ramp in its Berlin factory helped deliver a record number of Model Ys in Germany this quarter. However, deliveries fell short of expectations due to logistics bottlenecks.
Wuling grew by 31% YoY to hold the third rank in the global EV market. The brand's Hongguang Mini EV model has remained the undisputed market leader since its release in the second half of 2020. Mini-electric car sales in China are high as they cost less, are eligible for subsidies and serve the purpose.
Volkswagen's EV sales increased by 28% YoY to recover from their Q2 dip. The ID.4, ID.3 and ID.6 series had the top-selling Volkswagen models during the quarter. The company showed impressive results in China with its EV sales growing 79% YoY and 35% QoQ. Although the brand's sales in Europe and the US recovered sequentially, neither region registered YoY growth.
GAC Motor emerged as the fifth top-selling brand, overtaking BMW and Mercedes-Benz. During Q3 2022, GAC sold more than 85,000 units to record a YoY growth of 145%. GAC spearheaded its Aion series, with the Aion Y as the top-selling model. The company operates only in China.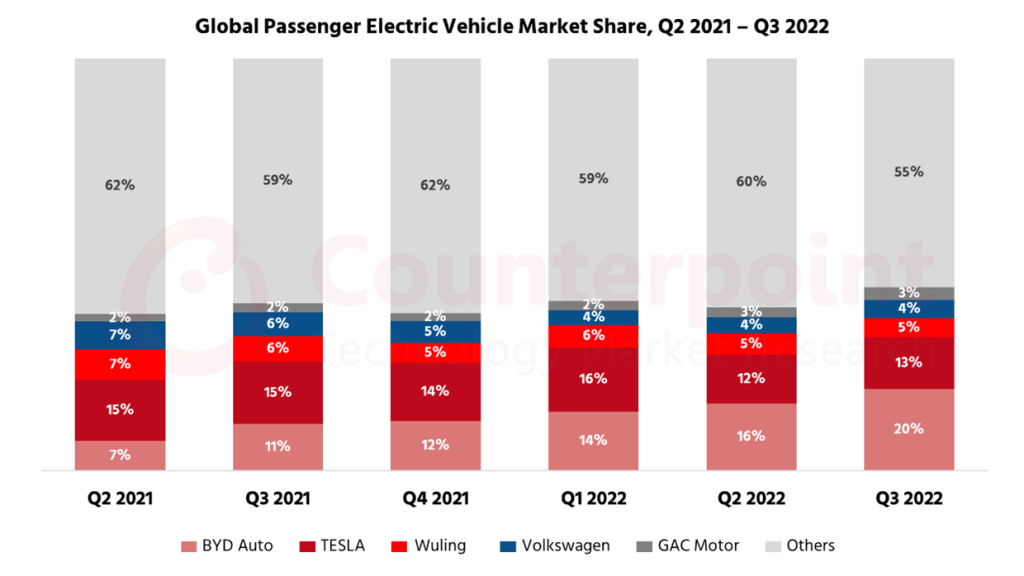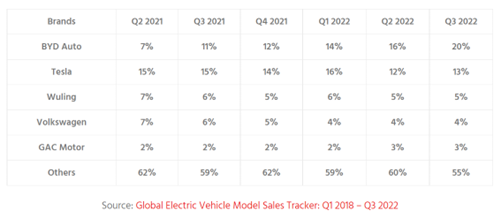 Note: Numbers based on passenger vehicles only.  For EVs, we consider only BEVs and PHEVs. Hybrid EVs and fuel cell vehicles (FCVs) are not included in this study.
More details at:
https://www.counterpointresearch.com/global-electric-vehicle-market-share/
There are three different growth scenarios for the global market.
A report by Virta Global says, "The Stated Policies Scenario suggests that by 2030, the global electric vehicle stock (excluding two/three-wheelers) will reach nearly 200 million vehicles and will account for about 10% of the global vehicle fleet. According to a more ambitious scenario, the Announced Pledges Scenario, 270 million EVs will be roaming global roads by 2030 and the share of EVs in the global vehicle stock will reach 14%. Net Zero Emissions by 2050 Scenario predicts that the global EV stock will reach 350 million EVs and its share will climb up to 20% in 2030.
https://www.virta.global/en/global-electric-vehicle-market
Meanwhile, Norway seeks to become the first nation to end the sale of petrol and diesel cars by 2025. A Reuters story, quoting the Norwegian Road Federation (OFV), says that the share of new electric vehicles rose to 79.3% in 2022 from 65% in 2021 and from a mere 2.9% a decade ago. — Almost four out of five new cars sold in Norway last year were battery-powered. /// nCa, 4 January 2023