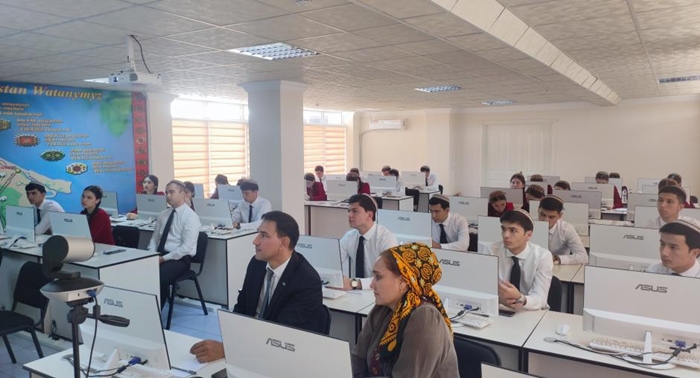 Some forty-five students from the Turkmen State Institute of Finance attended an OSCE-organized training course on Anti-Money Laundering and Combating the Financing of Terrorism (AML/CFT) that took place in a hybrid format from 18 to 22 September 2023.
The OSCE Centre in Ashgabat organized the five-day course to raise the awareness of students about AML/CFT international standards and share best practices of the OSCE participating States in preventing and countering this financial crime.
An international expert provided insights into the AML/CFT policy and co-ordination and elaborated on preventive measures in the AML/CFT area. The course also addressed money laundering and confiscation as well as transparency and beneficial ownership of legal persons and entities.
William Leaf, Acting Economic and Environmental Officer of the OSCE Centre in Ashgabat, referred to the Basel Declaration on Youth adopted at the OSCE Ministerial Council in 2014,  in which the OSCE participating States "acknowledged the potential of young people to contribute to economic, political and social development, and that they can support participating States in the implementation of commitments in all three dimensions of the OSCE.
"It is my firm belief that our training courses for students who may join the Financial Monitoring Service and other structures of the national AML/CFT system in a near future will enhance the sustainability of the host country's efforts to advance the AML/CFT system," said Leaf.
The training course also introduced students to the Financial Action Task Force standards and relevant national legislation. The student shared their views on powers and responsibilities of competent authorities and other institutional measures on the AML/CFT related issues. ///OSCE Center in Ashgabat, 22 Sep 2023
#OSCE, #Turkmenistan,