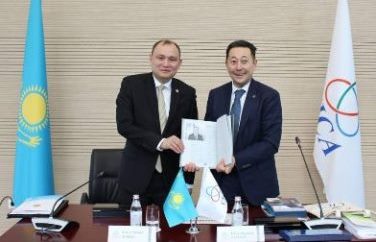 Kazakhstan and CICA (Conference on Interaction and Confidence Building Measures in Asia) have signed a roadmap for the Implementation of the Kazakh Chairmanship's Priorities in CICA for 2023-2024.
The document was signed in Astana on 22 February 2023 in Astana by the Deputy Minister of Foreign Affairs of Kazakhstan, Kanat Tumysh, and the Secretary General of CICA, Kairat Sarybay, reports Astana Times.
According to Tumysh, the priorities of the Kazakh chairmanship are aimed at developing the CICA as an important actor in international affairs that would strengthen connectivity in Asia and promote the common interests of the region. He focused on the practical implementation of the previous roadmaps and the timely adoption of the new document to advance the chairmanship's extensive agenda in the coming period, the Astana Times report says.
It adds that the roadmap covers different areas of interaction, including stepping up the CICA's transformation into a full-fledged international organization and its institutional development, the implementation of the CICA catalog of Confidence Building Measures, promotion of activities of the business and youth councils, cooperation with СICA observers and partners, establishing contacts with interested international organizations, capacity building of the CICA Secretariat among other measures.
CICA is a multi-national forum for enhancing cooperation towards promoting peace, security, and stability in Asia. Established in 1992, CICA has 28 member states, nine countries, and five international organizations that hold observer status. /// nCa, 24 February 2023 [Image credit Astana Times]