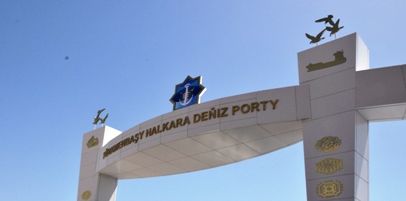 Ashgabat, 7 May 2018 (nCa) — With the commissioning of several new facilities this past Wednesday (2 May 2018) the Turkmenbashy Port of Turkmenistan has become the largest and most-modern port in the Caspian, with total annual capacity of 27 million tons.
Up until now, the Baku port of Azerbaijan was the largest with the annual capacity of 18 million tons. Because of the paucity of land expand the Baku port, Azerbaijan is building a new port at Alat.
The Aktau port of Kazakhstan is another major port in the Caspian, with annual capacity of 12 million tons. There are plans to expand this capacity to 18 million tons by 2020.
Makhachkala, Olya, and Astrakhan are the Russian ports in the Caspian and collectively they handle about 8 million tons of cargo annually.
Iran's largest port in the Caspian is Anzali, with annual capacity of 11 million tons.
Modernization and expansion of Turkmenbashy Port
The project for the modernization and expansion of the Turkmenbashy Port was handled by the Turkish company Gap Inshaat. The project cost is believed to be around USD 1.5 billion.
The new facilities add 17 million tons to the annual capacity of the port which previously had the capacity of about 10 million tons.
The construction work started on 29 May 2014
Under the project, four new terminals have been added to the port: General cargo terminal; Bulk cargo terminal; Container terminal; Polypropylene terminal.
There is also a shipbuilding and repair yard.
The port integrates with the rail and road system of Turkmenistan.
2500 new job vacancies have been created because of the expanded capacity of the port.
Client for the project: The state service of Maritime and River Transportation of Turkmenistan
Contractor: Gap Inshaat Yatirim ve Dis Ticaret AS
Information about the project

Total area

1358484 square meters

Total capacity (annual)

17 million tons

Harbour cranes and equipment

42 units

Main equipment

1030 units

Instruments

5443 units

Total length of the jetty

3600 meters

Total area of the buildings

146962 square meters

Total area of artificial island

1692761 square meters
Construction information

Dredging works

9942930 cubic meters

Deepening of seabed

2 to 8 meters

Installation of vertical drainage means (Wick Drain)

6280377 cubic meters

Sand backfilling of sea bottom

4088926 cubic meters

Rapid impact compaction

1121263 square meters

Deep soil mixing – DSM

145598 meters

Reinforced concrete piling

106968 meters

Plugging of steel pipes (Quay structure)

2701 pcs

109240 meters
Terminals
Passenger and vehicle terminal
Total area – 23000 square meters
Annual capacity – 300000 passengers, 75000 vehicles
Berthing capacity – two ships simultaneously
Length of berth – 256 meters
Planned for passenger and vehicle terminal – One railway station and one bus terminal
Inside the terminal
Space for 800 passengers
20 ticket sale windows
Passport control
Customs clearance
Beyik Yupek Yoly (Great Silk Road) Hotel, with capacity for 50 guests
Container terminal
Annual capacity – 400000 TEU
Wharf length – 480 meters
Simultaneous loading and unloading capacity – three ships of 5000 DWT
Two STS cranes with capacity 40 tons
6 wheeled bridge cranes
2 bridge cranes on steel rails
22 cargo trucks with capacity 50 and 20 tons (for moving containers within the terminal)
Container yard capacity – 9080 units (2 empty container stackers and 6 loaded container stackers)
Total area – 249000 square meters
Bulk cargo terminal
Annual capacity – 3 million tons
Special technologies for storing grain, feed, flour, chemical products, cement
Length of terminal wharf – 440 meters
Turkmenistan currently exports several kinds of bulk products such as cement, carbamide (urea fertilizer), potassium etc.
General cargo terminal
Indoor (covered) warehouse area – 26394 square meters
Outdoors warehouse area – 75000 square meters
Wharf length – 625 meters (longest in the port)
Simultaneous loading and unloading capacity – 4 ships of 5000 DWT each
Annual terminal capacity – 4 million tons6 cranes moving on steel rails – with capacity of 20 tons each
For ultra heavy cargo – two cranes with lift capacity of 330 tons and one with lift capacity of 84 tons
For movement5 of cargo in the terminal – one 500 ton heavy cargo vehicle, seven 60-ton load trailers, 9 electric forklifts
Total area – 261000 square meters
Terminal for railway wagon carrying ferries
This terminal existed already and has been repaired and upgraded. Now two railway-wagon carrying ferries can berth simultaneously. There is 30-meters bridge for embarkation and disembarkation of passengers.
Polypropylene terminal
Annual capacity – 120000 tons of polypropylene
Covered storage facilities – 62000 square meters
Cranes on steel cranes with lift capacity of 45 tons and turning angle of 17 meters
Simultaneous handling of three ships of 5000 DWT each
Balkan shipbuilding and repair yard
Annual construction capacity – 4-6 ships (processing of 10000 tons of metal)
Annual complete overhaul and repair capacity – 20-30 ships (2000 tons of steel structures)
Ship lifting and launch system with slipway – capacity of 10000 tons
Wheeled cranes with lift capacity of 80 tons
Cranes on rails – lift capacity of 40, 60 and 80 tons
Total area – 166000 square meters
Total number of engineers and specialists – 1160
Artificial island as bird sanctuary
An artificial island has been created from the dredged material
11.295 million cubic meters of dredged material used for creating the island
1.35 million cubic meters of backfill used for seawall
9.94 million cubic meters of dredged material used environment filling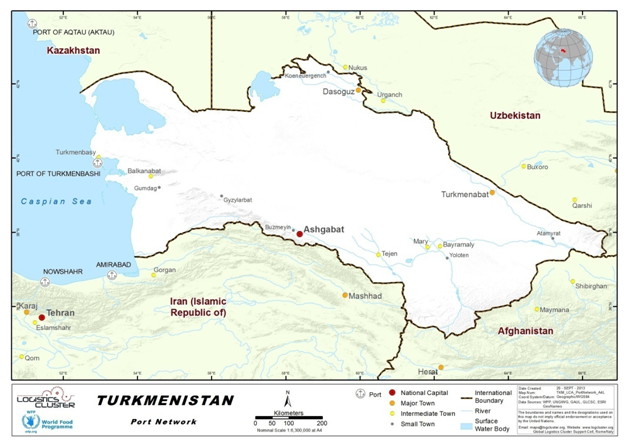 The Turkmenbashy International Seaport was established in 1896. At that time the port was called Krasnovodsk, which was also the name of the city where this port is situated. After the breakup of the Soviet Union, both were renamed Turkmenbashy.
The merchant marine port authority was established on 1 January 1903.
The ferry terminal was added to the port in 1959. The regular ferry service between Baku and Krasnovodsk was started in 1962.
In 2000-2003, a massive reconstruction project began. The old port was reconstructed along with construction of new berths for ships and warehouses and other facilities with modern equipment. This made it possible to provide port services at the highest level.
In 2013, the port built passenger catamaran "Charlak". It was the first shipbuilding project of this level in the history of the port.
Some pictures from opening ceremony of the port