Tariq Saeedi
Ashgabat, 21 December 2016 (nCa) — Circumstantial evidence is emerging already that the man who pulled the trigger in the assassination of the Russian ambassador in Turkey was linked to FETO.
There are ample reasons to believe that Mevlüt Mert Altıntaş, the police lieutenant who fired eleven shots this Monday at an art exhibition in Ankara, of which perhaps nine hit Ambassador Andrei Karlov of Russia, was quite certainly a member of FETO.
FETO (Fethulla Gulen Terrorist Organization, also known as Nurcu Movement) is a state within state established and run by the cleric Fetullah Gulen, who is living in the USA. FETO was responsible for the planning and execution of a failed coup in Turkey in July this year. After the suppression of the coup the Turkish government launched a massive drive to purge the civil and military structures of Gulenists, the people who wanted to bring down the democratically elected government in Turkey by violent means.
As the brutal assassination of Karlov shows, there are still some Gulenists hidden inside the government.
Even though Mevlut Mert Altintas, 22, shouted some words about Aleppo and revenge, it didn't take anyone long to understand that he was just the man who pulled the trigger — the plot was hatched in a distant land.
"We have to know who organized the killing, who gave orders to the assassin," Putin said. A senior Turkish government official told the media that the killing was "fully professional, not a one-man action" and said the attack was well-planned.
Here are some facts that link Altıntaş with FETO:
Altıntaş took a leave of absence for two days just after the failed coup attempt. Even though all the police officers were called to duty after 15 July 2016, his officer incharge allowed him to leave the station. Altıntaş was serving in Diyarbakir province at that time when the coup started. He arrived in Ankara on 16 July and stayed in a house in the Demetevler district of the Turkish capital.
The police chief, Kahraman Sezer, who allowed him to go on leave while it was a state of emergency was arrested in the aftermath of the coup and found to be linked to FETO.
Altıntaş was also suspected to be a member of FETO and was suspended from duty on 4 October 2016. However, he was allowed to return to active duty on 16 November 2016.
Altıntaş graduated from the high school in the province of Izmir in 2014.
He was a member of the riot police for two and a half years. The people he lived with before the school were found to be members of FETO. The people who graduated with him from the police school were in the FETO team.
The people who helped him to get into school were also Gulenists.
Altıntaş arrived in Ankara a day before the assassination and booked a hotel near the site of the art exhibition.
The expected outcome of this despicable act was to reinvent the wedge between Turkey and Russia. Had this happened, the beneficiaries would have been US-NATO. However, both Turkey and Russia have come closer together after this sad incident and an 18-member Russian team is already in Ankara for joint investigation.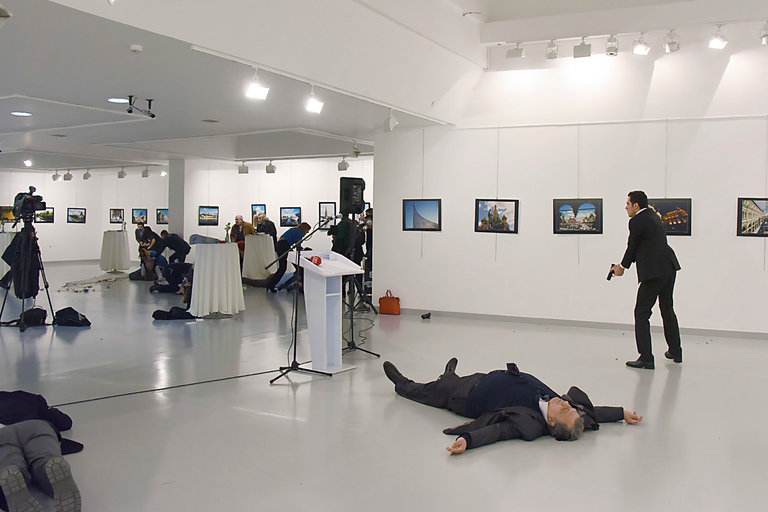 To the disappointment of the plotters, the Turkish-Russian-Iranian mechanism for peace in Syria was also not damaged.
Russian foreign minister Lavrov said Russia is "grateful" for Turkey's quick response to the assassination and that both countries are "determined" to fight terrorism.
"The aim of this terror attack was actually to damage relations," said Cavusoglu, the foreign minister of Turkey. He said that Turkey knows this and will not let it happen.
Cavusoglu said that Karlov was a "great" diplomat. He also said Ankara's Karyagdi Street, where the Russian Embassy is located, will be renamed Karlov Street in memory of the diplomat.
The investigation is still in its early stages and the Turkish and Russian experts will surely dig to the very roots of this evil.
* * *
After the failed coup attempt I started writing a series: 'Botched coup in Turkey – an incident of global importance'
Five parts of the series were published: Part One – 25 July 2016; Part Two – 1 August 2016; Part Three – 8 August 2016; Part Four – 10 August 2016 and Part Five – 22 August 2016.
I withheld the concluding part in the hope that the need will not arise to expose the scummy personality of Fetullah Gulen because it would hurt the feelings of those who gathered around him under the impression that they were following a great Sufi master, driven by the love for The Prophet and the cause of Islam as a message of peace.
Nonetheless, the assassination of Ambassador Karlov has echoed the menacing remarks of Gulen after the failed coup: "This is not the last you have heard [of us]."
* * *
Gulen retired from formal preaching duties in 1981. In 1994 he co-founded the journalists and writers foundation, one of the vehicles for the implementation of his plans. During this period he selectively met some politicians but avoided meeting any leaders of any parties with Islamic leaning, mainly because he was not working for the cause of Islam.
From 1988 to 1991 he gave a series of sermons in popular mosques. In those sermons, Gulen ordered his people to infiltrate i state institutions and wait for his order until gaining enough power. "You must move within the arteries of the system, without anyone noticing your existence, until you reach all the power centers … You must wait for the time when you are complete and conditions are ripe, until we can shoulder the entire world and carry it… Until the conditions are ripe, you must continue like this… If you do something prematurely, the world will crush our heads… The time is not yet right. You must wait until such a time, as you have gotten all the state power, until you have brought to your side all the power of the constitutional institution in Turkey…Until that time, any step taken would be too early—like breaking an egg without waiting the full forty days for it to hatch."
http://www.yenisafak.com/en/news/erdogan-harshly-criticizes-countries-standing-by-putschists-2501513
Hanefi Avci, a former police chief, has exposed the Gulen methods and the extent of his infiltration of the state machinery in a book 'Parallel State.'
A comprehensive commentary about the book was carried by Al Monitor:
http://www.al-monitor.com/pulse/en/originals/2014/11/turkey-parallel-state-police-chief.html
The Gulen Movement runs some 130 schools in 26 states of the USA. The teachers are mostly brought from Turkey, but also from other countries, and Gulen takes a cut of 40-50% from their salary.
Only those students are given admission who are believed to be susceptible to certain indoctrination. The students are sent periodically to Turkey for mixing with the Gulenists.
The FBI whistleblower Sibel Edmonds claims that Gulen is a CIA asset.
http://truthinmedia.com/exclusive-fbi-whistleblower-and-teacher-expose-islamic-gulen-movement-infiltrating-u-s-through-charter-schools/
The people who know him since before he became famous and powerful, describe Gulen in very unflattering terms. Edip Yuksel, whose father was a close friend of Gulen, says in an article published in 2012 that Gulen is leading a stealthy revolution in Turkey.
Yuksel defines Gulen Movement as a personality cult – He portrays himself as Mahdi, the promised Messiah.
"I found FG [Fetullah Gulen] too manipulative and dangerously charismatic for the naïve, and on top of that, too delusional. When his maudlin disposition, sobbing and crooning moved his audience and allowed him to raise big money for his foundation, he diversified his preaching style with sobbing, blubbering, weeping, sniveling, bawling and vociferating," says Yuksel.
Yusel points out the similarity of style between Gulen and some popular televangelists of mega-churches of the late twentieth century – manipulating the crowd through emotion and drama.
http://19.org/blog/fethullah-gulen/
In a video clip available at youtube (http://www.youtube.com/watch?v=5s8Lv4q_4CQ and http://www.youtube.com/watch?v=lofgsQW6rhM[/youtube) Gulen clearly commits blasphemy. Holding the holy book in his hand, weeping, sobbing, he says repetitiously to the crowd, "Quran is Orphan, Quran is Orphan." — This frame of reference (Quran as not word of God but creature of God) invokes an early and very dangerous schism in Islam.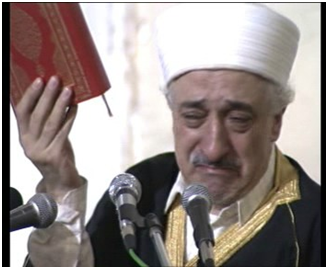 In another video, also available at youtube (http://www.youtube.com/watch?v=4_kS-NZeLKE) Gulen calls for genocide of Kurds. Urging the murder of at least 50000 Kurds, he says, "May God rain fire on their homes," and "May He uproot them root and branch."
In a video available at Daily Motion (http://www.dailymotion.com/video/x7pxyy_hasan-basri-ebu-hanife-mevlana-okul_people) Gulen says that three great saints of earlier centuries – Hasan Basri, Abu Hanifa, and Mevlana Rumi – visited him at the land of his first K-12 school in Fatih district of Istanbul.
In yet another video available at youtube (http://www.youtube.com/watch?v=AcD1uvbnMvk) Gulen claims that Prophet Muhammad appeared to him, not in a dream but in real life, as a real person, and talked to him.
The man who disrespects the holy book if Islam, makes absurd claims about meeting the Prophet of Islam and advocates the genocide of Kurds, may also be the man with the blood of Ambassador Karlov on his hands. The hidden connection needs to be unearthed all the way back to Gulen and his puppet masters.