On Wednesday, 9 August, the Ambassador of Turkmenistan to Kazakhstan Batyr Rejepov met with the Chairman of the Board of the Center for International Programs "Bolashaq" Olzhas Sakenov, the Embassy of Turkmenistan in Kazakhstan said.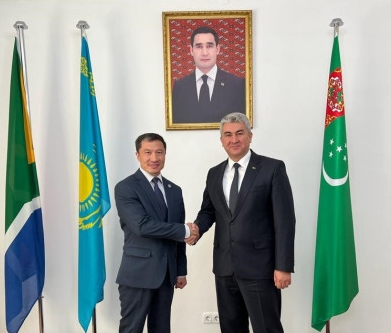 The participants of the meeting stressed the progressive development of bilateral relations between the countries in the scientific and educational sphere, and also exchanged views on building the potential of partner programs of universities of Turkmenistan and Kazakhstan by organizing scientific internships to improve the skills of scientific and technical personnel.
In turn, Sakenov noted the intention of the Kazakh side to take part in the International Exhibition and Scientific Conference "Healthcare, education and sports in the epoch of the Revival of a new era of a powerful state", to be held from 10 to 12 October 2023 in Ashgabat.
Sakenov stressed that this international platform will allow the delegation from Kazakhstan to present the educational programs of bachelor's, master's, postgraduate and second higher education in educational institutions of Kazakhstan.
At the same time, in order to popularize Kazakh education, the parties discussed the issues of holding educational exhibitions "Days of Education of Kazakhstan abroad".
Following the meeting, the sides confirmed their readiness to maintain active contacts in all mutually beneficial areas of cooperation.
The main subject of activity of JSC Center for International Programs – the implementation of a set of measures for international programs for training, retraining and advanced training of personnel abroad, including the international scholarship of the President of the Republic of Kazakhstan "Bolashaq". JSC Center for International Programs administers the "Bolashaq" program, scientific internships, as well as intergovernmental grants.  ///nCa, 10 August 2023
#education, #Kazakhstan, #Turkmenistan, #Center_for_International_Programs_Bolashaq