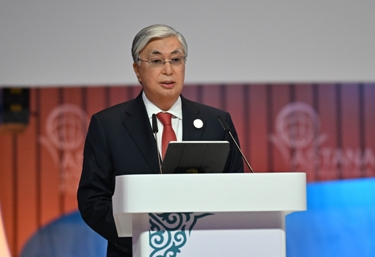 nCa Report
The plenary of the three-day Astana International Forum 2023 was held on 8 June 2023 at Astana, Kazakhstan.
President Kassym-Jomart Tokayev of Kazakhstan delivered the keynote address at the session moderated by the CNN journalist Richard Quest.
The speakers included the Chairman of the Presidium of Bosnia and Herzegovina Ms. Zelka Tsviyanovich, Prime Minister of Uzbekistan Abdulla Aripov, UNESCO Director General Audrey Azoulay, IMF Managing Director Kristalina Georgieva, OSCE Secretary General Helga Schmid, and Under-Secretary-General of the United Nations – Executive Secretary of ESCAP Armida Salsia Alisjabana. UN Secretary-General António Guterres addressed the forum participants with a video message.
The Emir of Qatar His Highness Sheikh Tamim bin Hamad Al Thani, and the President of Kyrgyzstan Sadyr Japarov were also present at the plenary session.
As the international community approaches an era of growing polarization and geopolitical division, Kazakhstan has launched this new platform for dialogue to join forces to address key global issues.
The programme of AIF is designed to address key issues facing the world and is organized into four categories:
Foreign policy and international security
International development and sustainability
Energy and climate change
Economics and finance
It is worth going through the speech of President Tokayev. Here is the translation of the complete text. Some passages of the speech have been highlighted editorially to draw attention to the main points:
Ladies and Gentlemen! Dear guests! I am sincerely glad to welcome you to the Astana International Forum. Our friends and colleagues from all over the world, as well as representatives of governments, diplomacy, business and academia, have gathered here.
I want to express my sincere gratitude to our special guests – the Emir of Qatar, the President of Kyrgyzstan, the Chairman of the Presidium of Bosnia and Herzegovina, the Prime Minister of Uzbekistan and other distinguished participants.
It is a great honor for us that you have personally chosen to come here and join us in what we hope will be a fruitful exchange of views on the current state of global economic affairs and issues of regional cooperation.
We believe that this is one way of expressing the true meaning of international partnership. In opening this Forum, let me also express my sincere gratitude to our strategic partner – the United Nations and its institutions, such as the IMF, UNESCO, UNDP, WTO, ESCAP and others, as well as our media partner CNN.
Dear participants! The Astana International Forum is a dialogue platform, the mission of which is as follows: First, to openly discuss the situation in the world; Secondly, to identify the main challenges and crises that we face; Thirdly, to face these challenges through dialogue in the spirit of mutual cooperation; Fourth, renew and restore the overall culture of multilateralism; And fifth, strengthen voices for peace, progress and solidarity.
This Forum directly contributes to greater engagement at a time when we need it more than ever – at a time of unprecedented geopolitical tension. To survive, the global system must work for all, bringing peace and prosperity to the many, not to the few.
Dear friends! We are witnessing the destruction of the very foundation of the world order that has been built since the founding of the United Nations.
The UN remains the only universal global organization that unites all of humanity. Meanwhile, we will not succeed in meeting the current challenges without a comprehensive reform of the Security Council. It is necessary that the voices of the representatives of the "middle powers" in the Council sound more weighty and be heard.     
Recent "new crises" – from COVID-19 to armed conflict – threaten the fragile international ecosystem. However, the causes of this instability are rooted deep in our past.
We are also witnessing the return, after 30 years, of the former "bloc" thinking that divided us. The forces of division are not exclusively geopolitical. They also have economic implications. Economic policy itself is openly used as a weapon. This opposition includes sanctions and trade wars, targeted debt policy, restricting access to or isolating from sources of financing, and controlling investment. Together, these factors are gradually undermining the foundations on which global peace and prosperity have been based in recent decades: free trade, global investment, innovation and fair competition.
This, in turn, provokes social tension and a split within states and tension between them. A widening gap in culture and values: all these tendencies have turned into existential threats.
Efforts to reverse these trends are made more difficult by widespread misinformation, which is now even more sophisticated and dangerous.
In parallel, new technologies, from artificial intelligence (AI) to biotechnology, have global implications but are only deployed within narrow national boundaries.
Together, these factors are pushing the global world order to a breaking point.
The result is a growing mistrust that has a negative impact on the functioning of well-known international forums, existing frameworks, security regimes, non-proliferation mechanisms. Thus, we face uncertainty, growing instability and conflict.
This, in turn, encourages increased spending on defense, on the latest weapons, which, in the final analysis, do not guarantee anything. This is also evidenced by the fact that for the first time in half a century we are faced with the prospect of using nuclear weapons. All of this comes at a time when we urgently need to focus on the threat of existential climate change.
Ladies and Gentlemen! The bottom line is that while geopolitical pressures push us apart, we face a clear and powerful imperative to get closer, to interact, to cooperate, to move towards each other.
At a time like this, the Astana International Forum presents another opportunity to reverse this trend. Only by meeting, consulting, being mutually honest about our problems, concerns and hopes, will the international community be able to resolve these issues. Only in this way can we shape our common future and return to the gradual building of a more stable, just and prosperous world for all.
Dear friends! Kazakhstan has long been a crossroads between East and West, North and South. In many ways, this forum corresponds to the culture and history of the great Eurasian steppe.
We are proud of this heritage. It is from the continuous exchange of goods, cultural achievements and ideas that the unique national identity of Kazakhstan and its special brand of multilateral cooperation has developed.
Despite geopolitical upheavals, Kazakhstan continues to serve as the economic locomotive of Central Asia. We continue to attract significant foreign investment and provide exceptional conditions for doing business in Kazakhstan. At the same time, we hope for mutual responsibility on the part of our foreign partners. This is the basic principles of our policy.
In turn, this creates equal rights and opportunities for small and medium enterprises, which play a very important role in the economic development of our country. Last year, Kazakhstan's exports increased by almost 40%. While a significant portion of our GDP still comes from the energy sector, our drive to diversify is growing stronger. We are seeing growth in industries such as automotive, pharmaceuticals, metalworking and engineering. We invite everyone who is interested in finding new opportunities for business and economic partnership.
For example, the Middle Corridor, or Trans-Caspian International Transport Route, linking China to the European Union, opens up new opportunities for trade and investment. This route will reduce the time of transportation of goods across the Indian Ocean by almost half.
I also want to emphasize the key role of Kazakhstan in the Belt and Road Initiative, which contributes to economic development and the strengthening of intra-regional contacts.
We seek to strengthen the physical connection between nations and people here today, and to strengthen the bonds between our communities as partners and friends.
Considering all these factors, today we can say that Kazakhstan is a truly global, and most importantly, reliable trade and economic partner.
Ladies and Gentlemen! Our country has always made every effort to strengthen peace and international security. We strongly support nuclear disarmament and are committed to the Treaty on the Non-Proliferation of Nuclear Weapons. Our country initiated the Astana peace process to resolve the Syrian crisis. Our capital has become a permanent venue for the congresses of leaders of world religions. The Conference on Interaction and Confidence Building Measures in Asia, headquartered in Astana, has become an authoritative mechanism for solving regional and global problems.
We are actively involved in overcoming the humanitarian crisis in Afghanistan. I would like to emphasize the need to further build up comprehensive assistance to the Afghan people under the auspices of the UN. In this context, it is important to establish the UN Regional Center for Sustainable Development Goals for Central Asia and Afghanistan in Almaty.
Kazakhstan is making every effort to maintain friendly relations with our global and regional partners. And we intend to build up regional cooperation with the fraternal countries of Central Asia.
Inside Kazakhstan, we are undertaking new reform efforts to introduce the principles of justice, the rule of law, equality and justice. My credo is clearly stated: law and order. This is a solid foundation for building a "New Just Kazakhstan".
In a very short period of time, we have reformed our institutions, limited the powers of the President, amended the Constitution, rebooted the political and economic systems, and are fighting corruption. So modern Kazakhstan is different from what it was, say, two years ago.
Our journey of transforming the existing system is far from over. We understand that political reforms and investment in human capital can save us from the middle income trap and make our economy more resilient.
While significant changes have already been made, much remains to be done. However, we gain confidence by realizing that in order to successfully walk the path, you need to be ready to overcome many pitfalls. We are ready for it.
Dear guests! Of all the challenges we face, perhaps the most pressing is climate change. Central Asia is at the forefront of confronting this challenge. Even if we successfully limit global temperature rise to 1.5 degrees Celsius by 2050, which looks increasingly unlikely, we will experience 2 to 2.5 degrees Celsius of temperature rise here in Central Asia.
This will lead to a transformation or, more precisely, to the desertification and dehydration of our local environment. We must be prepared for great difficulties.
We are really concerned about the lack of water resources. Droughts and floods in Central Asia will damage 1.3% of GDP per year and reduce crop yields by 30%, resulting in about 5 million internal climate migrants by 2050.
Our glaciers have already shrunk by 30%. The water level in the two great rivers of our region – the Syr Darya and the Amu Darya – will decrease by about 15% by 2050. In order to prevent an ecological catastrophe in the region, we call for more resources to be allocated to support the International Fund for Saving the Aral Sea.
The problem of water and climate change are closely linked. Central Asia is a region where water security can only be achieved through close cooperation and well-chosen joint measures.
To discuss these and other issues related to the climate in the region, I propose to establish a project office for Central Asian countries in Almaty and hold a Regional Climate Summit in Kazakhstan in 2026 under the auspices of the UN and other international organizations.
Our country could offer huge green economy opportunities and become a center for renewable energy. However, time is not on our side. We need resources and partnerships to decarbonise and build a green economy at the speed we need.
Ladies and Gentlemen! The global climate emergency is the clearest example of our interdependence and shared destiny. Whether we like it or not, we are connected to each other.
Given this reality, those who figure out how to work together will succeed, while those who are incapable will fail. The principles and values of the United Nations that underpin multilateralism are not just the most effective way to deal with this problem, they are the only way.
These are the principles, the intellectual roots of the Astana International Forum – a space for dialogue in order to solve common problems and move towards cooperation, development and progress.
I am optimistic that the constructive discussions over the next two days will be able to move us towards potential solutions and further cooperation.
Let me end my remarks with a gentle warning. Openness, tolerance and compromise are needed to promote meaningful conversation and cooperation.
I wish positive results for each of you and for the entire Forum. Thank you again for joining us today and I wish you fruitful discussions. /// nCa, 9 June 2023
#Kazakhstan, #President_Tokayev, #Astana_International_Forum-2023