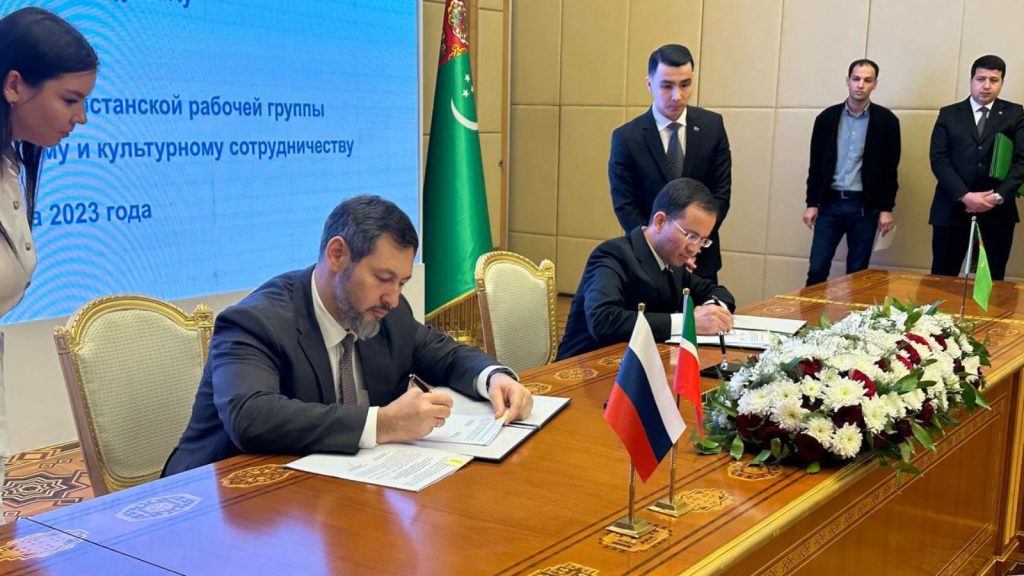 "There is a huge potential for attracting small and medium-sized businesses to work together," Deputy Prime Minister of Tatarstan, Head of the Ministry of Industry and Trade of Tatarstan Oleg Korobchenko said during a working visit to Turkmenistan.
The Tatarstan delegation included representatives of six ministries, three leading universities, the Academy of Sciences and 17 enterprises.
The agenda of the high-level talks covered cooperation in mechanical engineering, energy, oil production, supplies for the textile industry of Tatarstan, agriculture, pharmaceutical industry, etc., according to the Ministry of Industry and Trade of Tatarstan.
Korobchenko spoke at the Turkmen-Tatarstan Business Forum in Ashgabat, where he presented the industrial potential of Tatarstan. He also held meetings at the Ministry of Trade and Foreign Economic Relations of Turkmenistan and the Agency of Transport and Communications under the Cabinet of Ministers of Turkmenistan.
"Tatarstan is interested in expanding economic and investment ties with Turkmen partners. Cooperation in the field of automotive, shipbuilding, helicopter construction and the development of new logistics routes (including the North-South route) is of great interest. I believe that there is a huge potential for developing cooperation and attracting small and medium-sized businesses to work together," said the minister of industry and trade of Tatarstan.
Within the framework of the three-day visit, B2B meetings and the 8th meeting of the Joint Turkmen-Tatarstan Working Group on Trade, Economic, Scientific, technical and cultural cooperation were held on 16 March with the participation of the Minister of Finance and Economy of Turkmenistan Serdar Jorayev.
Korobchenko noted that the year has started actively for both sides. The delegation of Tatarstan headed by the President of Tatarstan recently visited Turkmenistan as part of the Russian delegation and took part in the Russian-Turkmen Business Forum. At the same time, a delegation of the Ministry of Finance and Economy of Turkmenistan visited Tatarstan in order to study the experience of the republic in creating special economic zones and industrial sites. At yesterday's meetings, agreements were reached on a number of mutual working visits.
During the meeting, a Memorandum of Understanding was signed between Kazan (Volga Region) Federal University and the Institute of International Relations of the Ministry of Foreign Affairs of Turkmenistan, as well as a Memorandum of scientific and technical cooperation between the Academies of Sciences of Tatarstan and Turkmenistan.
"The activities of the working group should be effective. By the end of 2023, we need to achieve an increase in trade turnover compared to last year. And I, for my part, will do my best. The economy should be in the first place for us," Korobchenko said.
He also invited the delegation of Turkmenistan to Kazanforum-2023 on 18-20 May.
In addition, it was decided to hold the next meeting of the working group in Kazan in 2024. ///nCa, 17 March 2023