Federation Chamber of commerce and Industry of Vietnam (VCCI) in collaboration with the Ministry of Foreign affairs of Turkmenistan, the union of industrialists and entrepreneurs of Turkmenistan held business forum Vietnam-Turkmenistan, reported Vietnamese news agencies.
The Turkmen delegation led by deputy foreign minister Vepa Hajiyev consists of more than 40 businesses operating in the fields such as construction, building materials, transportation and logistics, chemicals, food, import and export, banking and finance.
The forum is a good opportunity for businesses of both sides to share updated market information, learn the investment environment and business doing rules.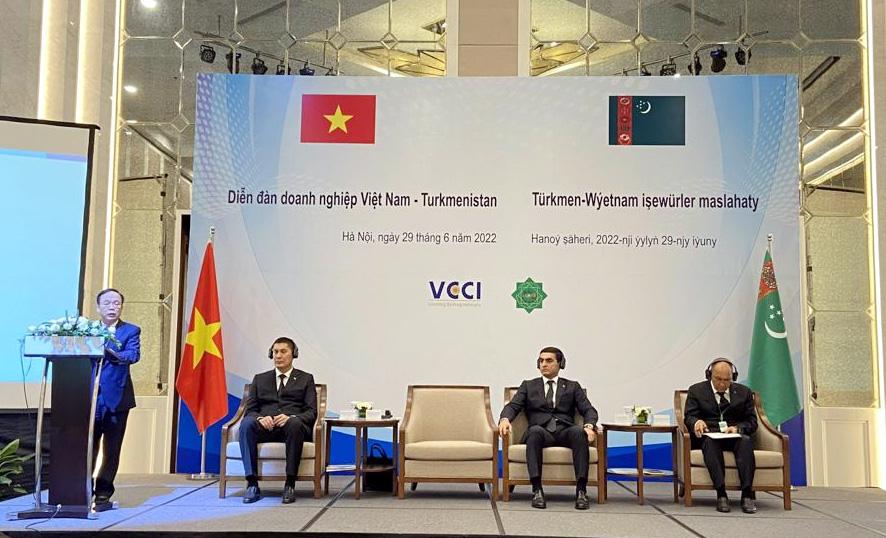 According to the statistics of Vietnam Customs, trade exchange between Vietnam and Turkmenistan 2021 amounted to US $ 560,000 dollars, including Vietnam's exports to Turkmenistan reached US$ 460,000 million, up 40.6% of compared to the same period the year 2020. The import from Turkmenistan to Vietnam totaled US$ 100,000, up 76,5% year-on-year.
According to the Deputy chairman of VCCI Bui Trung Nghia, trade data is now not yet reflect the potential cooperation between the two countries in the field of trade.
Therefore, in order to promote trade cooperation between Vietnam and Turkmenistan in future, the participants of the forum decided to coordinate and create a favorable legal environment, facilitating bilateral economic and trade partnership.
Moreover, the following steps were suggested to propel Turkmen-Vietnamese cooperation:
Signing agreements in the field of plant and animal quarantine, mutual recognition of product quality certification

Enhancing the exchange of information on markets, businesses, goods

Studying the possibility of cooperation between the two countries in the oil and gas sector

Organization of business delegation of Vietnam to survey the market

Attending specialized fairs, hosted in Turkmenistan to present goods, products, search for potential customers.
During his remarks at the forum, deputy foreign minister of Turkmenistan Vepa Hajiyev said that today's event will be the new landmark for the development of trade cooperation between the two countries in future. "We need to intensify joint efforts to develop the role of the business community of both countries, which need to take into account the small and medium enterprises", he stressed.
The forum led to the inking several memoranda on cooperation in digital sphere, development of IT solutions between the following companies:
Turkmen company "Yokary tilsimatlar merkezi and FPT Software (Vietnam);

LIBS Software (Vietnam) and company "Emel san" on cooperation in digital systems;

Savvycom JSC (Vietnam) and Milli Ulgam (Turkmenistan).
Deputy chairman of VCCI Bui Trung Nghia and chairman of the Union of Industrialists and Entrepreneurs of Turkmenistan Dovran Hudayberdiyev signed letters of intent on the cooperation in supporting the business community on both sides.
The day before the forum, Turkmen delegation had a meeting at the Ministry of Construction and the Ministry of Industry and Trade of Vietnam. The sided proposed to set up a bilateral working group on cooperation in the construction sector. ///nCa, 30 June 2022