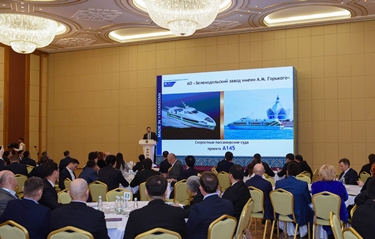 On Wednesday, 15 March, the Turkmen-Tatarstan Business Forum was held in Ashgabat.
Tatarstan was represented by a delegation consisting of heads and representatives of state institutions and companies specializing in various fields of economic activity.
From the Turkmen side, representatives of a number of line ministries and departments, as well as members of the Union of Industrialists and Entrepreneurs attended the business forum.
The agenda of the meeting included discussion of promising areas of partnership between the sectoral departments and business circles of Turkmenistan and Tatarstan, in particular, in the fields of industry, energy, agriculture and transport.
In this context, the emphasis was placed on the presence of positive experience of interaction between the business circles of Tatarstan and Turkmenistan. The participation of such leading companies as KAMAZ, Tatneft, KER-Holding, and machine-building enterprises in the implementation of joint projects was mentioned as examples of fruitful partnership.
During his remarks Deputy Prime Minister of Tatarstan, Minister of Industry and Trade of Tatarstan O.Korobchenko noted that "Eidos–Medicine", being one of the world's largest companies in the field of healthcare for the production of human simulators, also set partnership ties with universities of Turkmenistan and supplies simulators. Recently, a corresponding agreement was signed with the International Educational and Scientific Center of the Ministry of Health and Medical Industry of Turkmenistan.
At the same time, the forum emphasized the existence of great potential for the development of cooperation in such areas as machine-building, aircraft and shipbuilding, energy, chemical supplies, pharmaceuticals and medicine, agro-industrial complex, etc.

Today, Tatarstan is actively developing the sphere of innovation and forming an infrastructure for investors, leading in the Russian national rating of the investment climate. In this context, there are ample opportunities for the exchange of experience in such areas as the creation of special economic zones, industrial and technoparks, engineering and research centers, the development of nano- and IT-technologies, the production of composite materials and robotics.
Representatives of the Turkmen side noted that at the present stage in the development of bilateral relations, the construction industry occupies a special place. The energy, agriculture, transport, mechanical engineering, agro-industrial complex are among the promising areas of cooperation.
On the sidelines of the business forum, ministries, departments and private sector had bilateral meetings, which allowed to outline plans for further cooperation.
A cooperation agreement was signed between the Halk market supermarket chain of Turkmenistan and Natural Health LLC, Tatarstan. ///nCa, 16 March 2023 [photo credit – TDH]