This is Part Two of the chapter on Turkmenistan of the recently issued CAREC Energy Outlook 2030 report.
The complete report is available at this link: https://www.adb.org/sites/default/files/publication/850111/carec-energy-outlook-2030.pdf
Energy Sector and Technologies Assessment
Conventional Fuel Production
Turkmenistan's fossil fuel production mainly consists of natural gas, with oil covering a much smaller share of its overall hydrocarbon production. There are numerous oil and natural gas fields spread across the country, including the Galkynysh field, which is the world's second-largest natural gas field, with reserves estimated at up to 14 trillion cubic meters (tcm). In 2019, Turkmenistan produced 70.2 bcm of natural gas, of which 32.6 bcm was consumed domestically and 37.6 bcm was exported. The country, therefore, globally ranks fourth in terms of proven gas reserves and 13th in terms of gas production. The country plans to increase its natural gas production to 250 bcm per annum by 2030. The country's proven natural gas reserves are 19.5 tcm.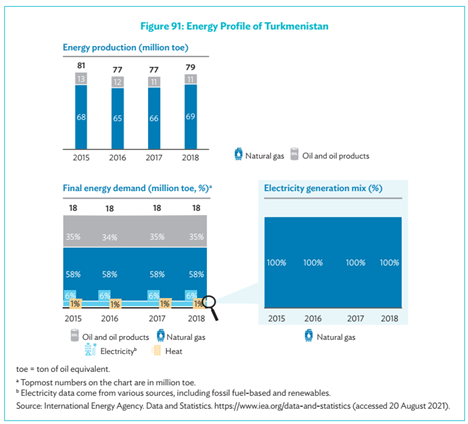 Turkmenistan produced more than 12 million tons of oil in 2019, about 60% of which was used domestically. In addition to expanding its natural gas production, Turkmenistan also aims to expand its oil production by 2030. The country's oil reserves are estimated at 82 metric tons (Mt). Its natural gas fields are owned by Turkmengaz, and its oil production fields by Turkmenneft, both of which are state-owned enterprises. The country has two oil refineries: the Turkmenbashi Oil Processing Complex (TOPC), which has a capacity of more than 10 million tons per year; and the Seidi refinery.
Turkmenistan also has gas processing and other chemical plants, including a gas chemical complex in Kiyanly, with a capacity to produce up to 386,000 tons of polyethylene and 81,000 tons of polypropylene annually using 5 bcm of natural gas as feedstock. There is also the gas-to-gasoline plant at Ovadandepe, which is designed to process 1,785 million cubic meters of natural gas into 600,000 tons of ECO-93 gasoline per year (AzerNews 2019; International Trade Administration, US Department of Commerce 2020). The ammonia and urea plant in Mary has the capacity to produce 1,200 tons of ammonia and 1,925 tons of urea per day, while the Garabogazcarbamide plant in Garabogaz is designed for the annual production of 1,155,000 tons of urea (Berksan; Business Turkmenistan 2020).
Electricity Generation
Turkmenistan relies entirely on natural gas for its power generation (ADB 2018b). In 2020, installed generation capacity was about 7 GW with 14 power plants. All power plants are owned and operated by Turkmenenergo, a state-owned vertically integrated power company. Although most of its power plants were originally constructed more than 40–50 years ago, 11 power plants were rehabilitated (including the installation of new turbines) in 2003–2018 (except the Turkmenbashi Thermal Power Plant). Nevertheless, Turkmenistan has only one operational combined-cycle power plant. In 2019, Turkmenistan produced 25.4 terawatt-hours (TWh) of electricity, and exported 15% of it to neighboring countries.
Turkmenistan's government is planning to modernize two power units at the Turkmenbashi Power Plant, increasing its capacity to 645 megawatts (MW). The construction of six large energy facilities is also planned, including two power plants in the Akhal region; Gurtly, with a capacity of 508 MW; Akhal-2, with a capacity of 254 MW; and the 126 MW gas turbine power plant at the Turkmenbashi oil refinery. Total electricity generated in Turkmenistan is expected to increase in the short term as new capacity is added.
Turkmenistan has no renewable power generation apart from two hydropower plants, which do not contribute to national power generation. However, the full technical potential of renewable sources for power generation is significant and is estimated at 1.3 GW for small hydropower, 10 GW for wind energy, and as much as 655 GW for solar energy. Renewable energy generation in small and medium‑sized installations in remote and sparsely populated areas is planned for the short term.
Transmission and Distribution
Although the electrification rate is 100% in the country, the electrical transmission system is characterized by inefficiencies. Operating with total power transmission and distribution (T&D) losses of 16.4%, the system has low reliability and frequent outages, particularly in the remote regions of the country due to aging infrastructure. Its main transmission lines were built in the 1970s and are in urgent need of renovation and expansion. A supervisory control and data acquisition (SCADA) system and additional metering devices are currently being implemented. Moreover, further projects in the sector are planned, including the creation of a ring between the main energy nodes. In 2021, the government inaugurated the Ahal–Balkan high-voltage transmission line, which is the first stage of the ring power transmission system.
With a combined length of over 13,000 kilometers (km), Turkmenistan's electrical transmission network operates at voltages of 35, 110, 220, and 500 kilovolts (kV). The natural gas transmission network spans the whole country through the 771 km long, 30 bcm per year East–West natural gas pipeline, which ensures a secure natural gas supply within the country. Overall, the country's natural gas pipeline network (including cross-border gas pipelines) is over 8,000 km long. Turkmenistan also has a small domestic crude oil pipeline network, linking onshore oil fields with the Turkmenbashi refinery and Caspian ports.
Cross-Border Infrastructure
Turkmenistan is interconnected with all neighboring countries and large export markets. Plans to expand its cross-border infrastructure through the Turkmenistan–Afghanistan–Pakistan–India (TAPI) pipeline for natural gas, and the Turkmenistan–Afghanistan–Pakistan (TAP) Interconnection for electricity have been launched; however, due to the scale and multitude of countries involved, these projects have not gone into operation (Table 9). It should be noted that the uncertain political situation in Afghanistan adds additional complication and renders it difficult to predict the development of these projects./// nCa, 18 January 2023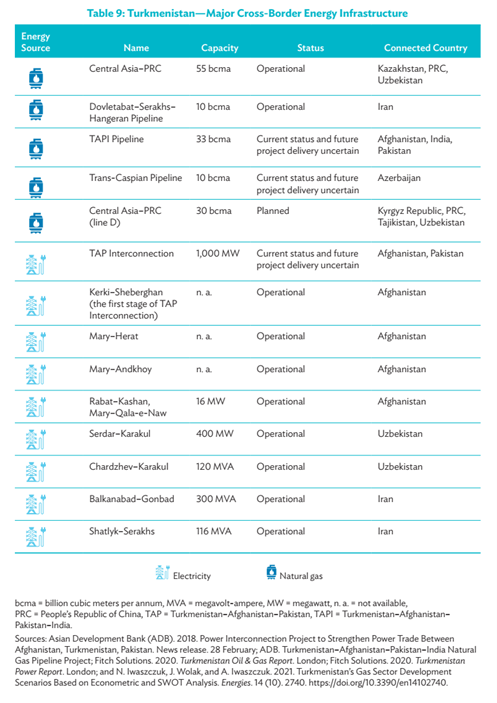 To be continued . . .
Turkmenistan Energy Outlook 2030 – Chapter from CAREC Report – Part One