Recently, the UNDP and IOM in Turkmenistan held a seminar on "Climate change: risks, assessment, planning", the Neutral Turkmenistan newspaper reports. The seminar was organized within the framework of the joint consulting project of the Ministry of Agriculture and Environmental Protection and the UNDP and the Green Climate Fund "Development of the national adaptation planning process in Turkmenistan".
The seminar addressed the issues of awareness of civil servants on the entire range of climate issues. It brought together hydrometeorologists, desert scientists, industrial environmentalists, hydraulic engineers, doctors, military personnel of the migration and rescue services of the Ministry of Defense.
The participants talked about how different adaptation and management strategies might work for Turkmenistan's conditions, as well as how to assess climate risks and calculate short- and long-term climate change models.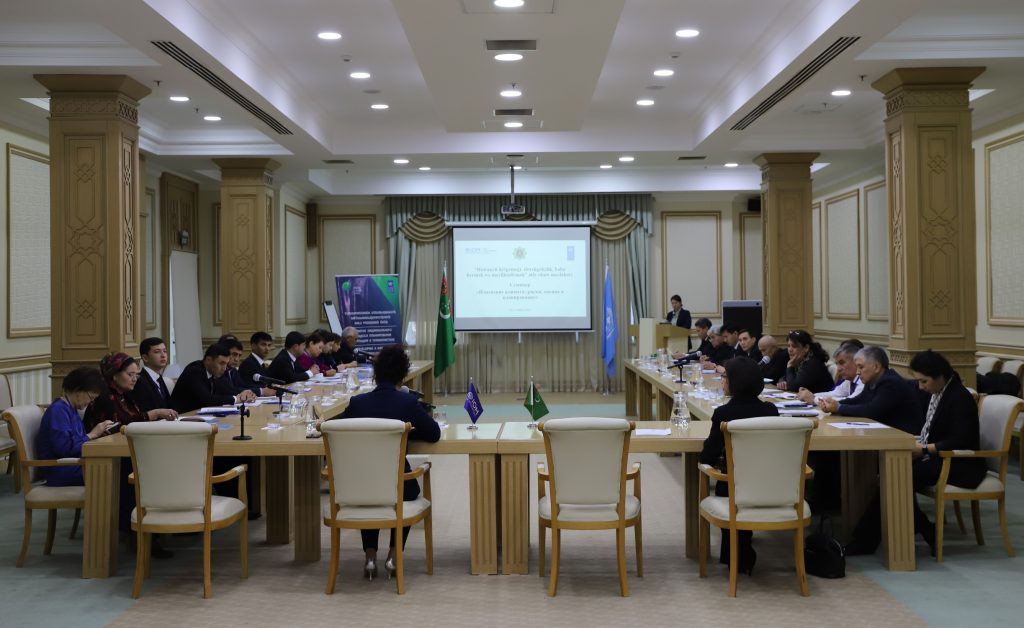 International experts were also invited to the dialogue. Thus, an overview of climate issues was presented by international expert Natalia Yakusheva-Jarlebring from Sweden. She conducted practical training during which allowed to test the possibilities of three-stage identification and rapid assessment of climate change risks.
One of the topics closely related to the impact of the effects of climate change is the development of the urban environment. For instance, local experts outlined the rationale for why buildings and structures in Turkmen cities are being built at such a great distance from one another. The fact is that the dense location of residential buildings in the blocks in the summer prevents the cooling of concrete and asphalt heated during the day. This leads to the appearance of "thermal islands".
To avoid this, forest park zones with fountains that dileniate the streets are also being created in cities. Thus, architectural and landscape solutions help to reduce the air temperature, forming micro-oases of a comfortable climate.
A number of national-scale projects are also being implemented to mitigate the negative effects of climate change. The Turkmen lake "Altyn asyr," which is still under construction, is the most adaptable hydrotechnical facility in the country, according to desert scientist Sultan Veysov.
Now dense combs have formed around the lake, the water attracts more and more wintering birds, ichthyologists observe an increase in the species diversity of fish in the waters of the lake.
The recently commissioned anti-mudflow complex in the southern part of Ashgabat is another item significant from the perspective of maintaining environmental well-being.
The meeting speaker, Diana Charyeva from the IOM spoke about the new term "climate refugee" when, due to frequent droughts, for example, farmers' families migrate to more favorable areas for agricultural production in the United States.
Sometimes climate migration takes on interstate scales, when people move to another country because of the availability of water there, agricultural productivity.
In the Central Asian region, climatic migration is observed due to the drying up of the Aral Sea. ///nCa, 18 November 2022