"Turkmenistan is a key player in the global energy arena, has great prospects for natural gas supplies in the European direction," Batyr Amanov, State Minister, Chairman of the State Concern Turkmengaz, said at the OGT-2022 plenary session.
Taking into account the high demand for natural gas on the world market, Turkmengaz is ready to cooperate for further diversification of routes and supplies to international energy markets to strengthen regional energy security, he added.
Natalie Costello, Advisory Committee Director of Trans Caspian Resources Inc., told about how to technically implement the project of transporting much needed Turkmen energy sources to the European market.
To do this, it is enough to build a 78-km long Trans-Caspian connector gas pipeline between Turkmenistan and Azerbaijan to transport gas from existing offshore platforms.
The idea is to capture flare gas from offshore production in Turkmenistan to an operating Azerbaijani platform.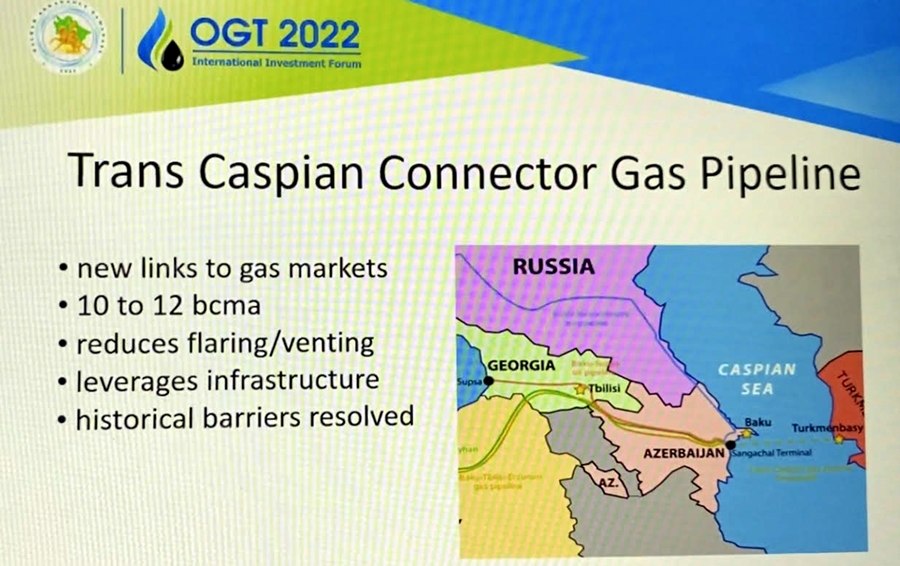 The interconnector with a capacity of 10-12 bcma could connect gas produced in Turkmenistan to Southern Gas Corridor.
According to Costello, it can be build and commissioned quickly and with the support of various parties many barriers can be resolved, especially since economic and political environment now is conducive. 
The initial volume of supplies via the connector may amount to 5 bcma and within 2-3 years, the pipeline can be brought to full capacity.
Preliminary estimations of the project cost ranges from US $400 to 600 million.
"With a proper contractual commitments this pipeline is financially and commercially viable", she underlined.
The possibilities of the project of delivering Turkmen energy sources via a gas connector to Europe have increased dramatically, as since Europe is compelled to diversify its sources of energy, particularly natural gas, the additional supplies are required to support industrial and consumers' needs. 
Costello mentioned two key areas of work that could make this pipeline idea true in near future.  First one is completing the feasibility study and another one is cooperation from Turkmen government.
The speaker assured that Trans Caspian Resources Inc is ready to deliver the feasibility study and related front-end engineering, design studies along with environmental regulatory and legal reviews. The satisfactory completion of these studies will enable the full development of the consortium.
The first order of customers are expected to be Caucasus, including Armenia, Georgia and possibly Turkey, she said.
As for the Caucasian countries, George Chikovani, Director General of the Georgina Oil and Gas Corporation, spoke in favor of the project of delivering Turkmen gas to the west.
"The grogress made on South Gas Corridor as well as recent developments provide the tremendous impetus for the discussion of introduction of Turkmen natural gas to the system", he said reminding on the recent energy crisis in Europe.
Not only EU, but also Georgia is interested in supplies of natural gas from Turkmenistan, which Turkmenistan has enough gas to meet the rising demand, he continued.
However, the obstacle is the lack of the possibility of transporting gas to Azerbaijan. "This issue should be resolved through international cooperation and securing financing," Chikovani added.
GOGC CEO emphasized the need of greater dialogue between EU, Central Asia, Caucasus, industry representatives to promote strategy and foster commitments to establish energy bridge between Turkmenistan and SGC. ///nCa, 27 October 2022