On 4 October, 2022, foreign minister of Turkmenistan Rashid Meredov met with the Ambassador of Japan to Turkmenistan Hiroyuki Yamamoto.
During the meeting, the diplomats discussed a wide range of issues of Turkmen-Japanese cooperation. In this regard was noted the strategic, sustainable and long-term nature of cooperation between two countries.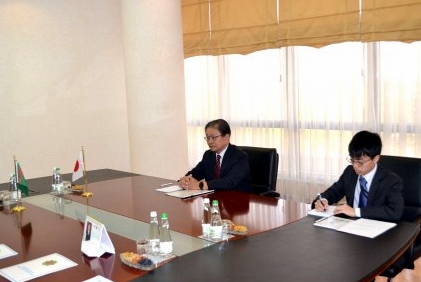 It was emphasized that Japan is a significant partner of Turkmenistan in the field of investment and banking. The expediency of intensifying investment activities in close cooperation with leading Japanese banks and companies pointed out to this end.
In this context, the issues of organizing the 14th joint meeting of the Turkmen-Japanese Committee for Economic Cooperation in Tokyo, scheduled for the end of this year, were discussed.
Discussing the importance of cooperation between Turkmenistan and Japan in multilateral formats, the parties exchanged views on the upcoming meeting of Foreign Ministers Dialogue "Central Asia + Japan" in Tokyo at the end of this year.
The sides also discussed the possibility of holding an inter-parliamentary forum "Central Asia + Japan" in Ashgabat next year.
Along with this, the attention was paid to the holding of cultural events, timed to 30th anniversary of the establishment of diplomatic relations between Turkmenistan and Japan. ///nCa, 5 October 2022