On Friday, 17 June, President Serdar Berdimuhamedov made a trip to Mary province, where he got acquainted with the implementation of the State Program of socio-economic development of the regions and the progress of agricultural work.
Immediately after arrival, the head of state went to the farmers' association "Turkmenistan" of the Vekilbazar district. There he stopped at the field of the tenant farmer Atageldi Erniyazov.
During the current grain harvest in the region, it is planned to collect 345,000 tons of wheat. The fields are mainly sown with high-yielding varieties of Ak bugdai.
According to the farmer, he has been engaged in tenant farming for 15 years. 55-herctares land plot is sown with wheat, it is expected to harvest 40-45 quintals of grain per hectare. His family is engaged in the cultivation of cotton, potatoes and other fruit and vegetable products.
The head of state asked the farmer about the working conditions, especially about the provision of land, water, seeds and fertilizers, about the operation of agricultural machinery and payment for the harvest.
At the request of the tenant, the president personally gave a start to the grain harvesting by cutting a sheaf of wheat ears.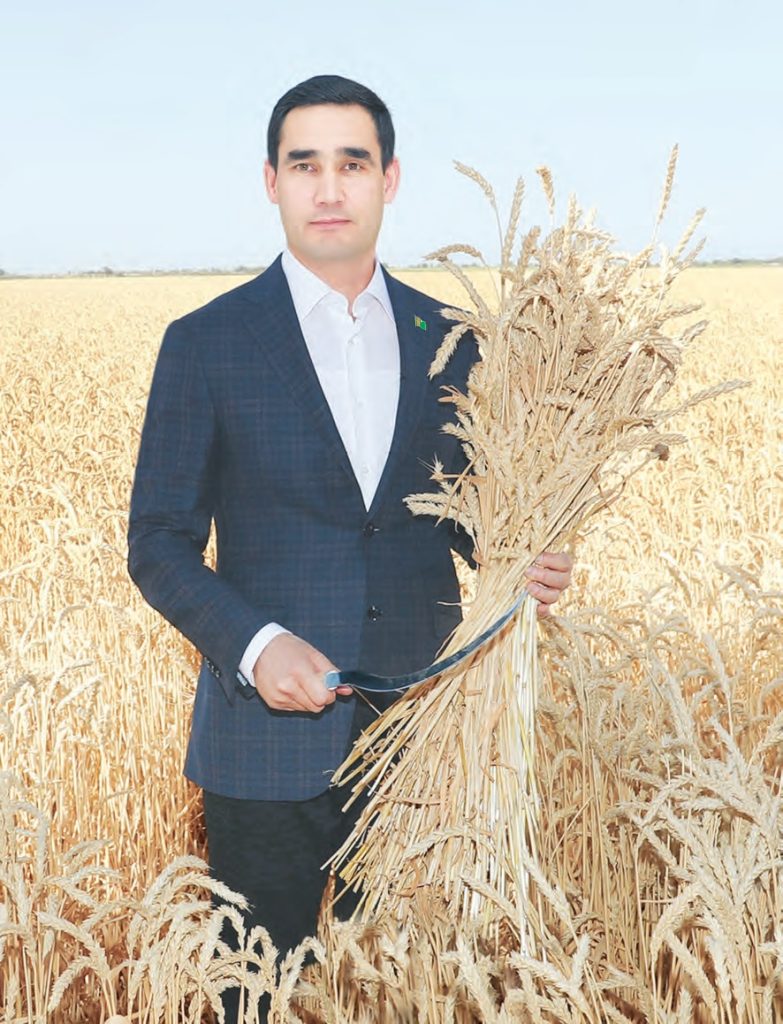 He also had there a conversation with an employee of the Agricultural Research and Production Center of the Turkmen Agricultural Institute B. Novruzov. He informed the president about the new coarse-grained, disease-resistant and high-yielding varieties of wheat. The agronomist also added that 55-60 quintals of grain can be harvested from each hectare of a new variety of awned and awnless wheat, which ripens in 200-210 days.
At Novruzov's request, President Serdar Berdimuhamedov named new wheat varieties "Berkarar" and "Galkynysh".
He gave specific instructions to the relevant chiefs on the introduction of advanced experience and the latest technologies into the agriculture. At the same time, the most important requirements are the rational use of land and water resources, increasing soil fertility, the president said.
Noting that researches should be in line with the soil and climatic conditions of each region, the head of state instructed to organize joint work of agricultural specialists from all provinces.
Then president Serdar Berdimuhamedov viewed the exhibition, which showcased varieties of cotton and wheat seeds, as well as bakery products made from flour of the new harvest.
Later, he went to the main mosque of the region "Gurbanguly-hajji", located in the city of Mary.
A teperrik brought from the holy Mecca has been displayed in the mosque. The president noted the need of its by-turn display at the mosques across the country. This relic was presented to Arkadagly Serdar as a gift from the Kaaba during his Umrah.
Then the head of state attended the opening ceremony of a festivities hall for 3,000 seats, which is located next to the giant yurt building "Türkmeniń ak öýi". Sadaka meal was offered there.

President Serdar Berdimuhamedov gifted new cars to the governor of Mary province.
* * *
On the same day, a Friday prayer was performed and sadaka was organized at the Gurbanguly-Hajji Mosque. ///nCa, 18 Jun