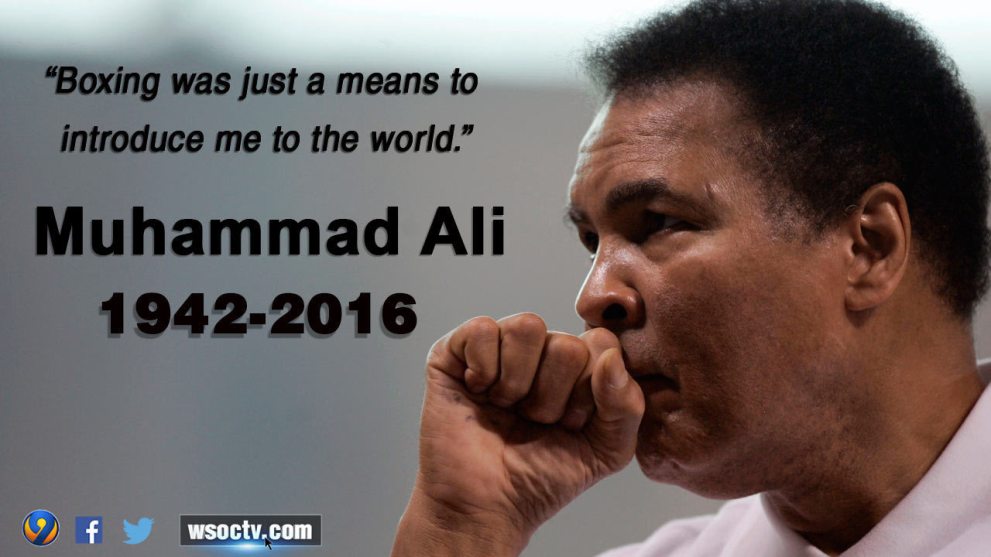 nCa Commentary
Ashgabat, 7 June 2016 (nCa) — Muhammad Ali, The Greatest, was larger than life and he has left a legacy larger than life. And, his unmatched boxing career was the smaller part of his legacy.
"I am America," he once declared. "I am the part you won't recognize. But get used to me – black, confident, cocky; my name, not yours; my religion, not yours; my goals, my own. Get used to me."
The man who could 'Float like a butterfly, Sting like a bee,' opened several fronts one after the other.
Being black, he was already a minority and by converting to Islam he became a much smaller subset of that minority.
As if this were not enough to make mainstream American hate him, he refused the draft. "Man, I ain't got no quarrel with them Viet Cong," he said.
The whole hell broke loose. He was roundly denounced, vilified, passionately hated. He was stripped of his Heavyweight title and barred for three years from taking part in any fights. In a show of pure pettiness, the Department of State confiscated his passport to prevent him from signing for any fights abroad.
He lost three years of his prime. The estimated loss of income was around USD 60 million.
He never wavered, never compromised. He fought the system from within the system.
Here is an important lesson for the sitting governments in Central Asia. — Ali did not plot violent overthrow of the government, targeted killing of the whites or demanded a separate country for the black. He was proud to be an American and he set out to make America a better place. He won in the end because the system, no matter how flawed, was receptive to dissent. The system had servo motor even if that servo motor doesn't always kick-in when it needs to.
The Central Asian governments, in introspection, need to ask and answer this question: Is the system geared to listen to and accommodate genuine dissent? Answer this question honestly.
The 'system' here covers all of the three elements that constitute a system: the legal system, the political system and the social system.
Keep in mind that when Ali returned from Rome Olympics in 1960 with a Gold Medal, his hometown administration refused to co-host a reception in his honour on the excuse that they 'don't have time.' He was refused a glass of juice in a café because of the colour of his skin.
The same system that rejected him at every step, turned around eventually. America got used to him, albeit tortuously. Ultimately, it evolved into total ownership: everybody owns him today, no matter which country, no matter what religion, no matter the colour of the skin. Everybody loves him. Everybody finds a way to identify with him. Everybody feels privileged to have lived during his time.
The Central Asian governments need to check voluntarily if the prevailing system has the room for a person who knows right from wrong and has the courage and conviction to stand for the right? How will the system treat such a person if his dissent is peaceful and within the system?
As Bob Arum noted, the events set in motion by Ali led to the election of Obama to the White House. He rewrote the social order, he redefined America. For the courage of a single man, America is better.
Central Asia is good and it can definitely be better.
Ali was and will continue to be an inspiration for the young people the world over, Central Asia being no exception.
He said, "If my mind can conceive it, and my heart can believe it – then I can achieve it."
He said, "Only a man who knows what it is like to be defeated can reach down to the bottom of his soul and come up with the extra ounce of power it takes to win when the match is even."
He also said, "Impossible is just a big word thrown around by small men who find it easier to live in the world they've been given than to explore the power they have to change it. Impossible is not a fact. It's an opinion. Impossible is not a declaration. It's a dare. Impossible is potential. Impossible is temporary. Impossible is nothing."
The Greatest was never short of words. He said, "Champions aren't made in the gyms. Champions are made from something they have deep inside them: a desire, a dream, a vision. They have to have last-minute stamina, they have to be a little faster, they have to have the skill and the will. But the will must be stronger than the skill."
And, "He who is not courageous enough to take risks will accomplish nothing in life."
No cause was too big or too small for him. He was available for peace missions, children's hospitals, orphanages, and all kinds of social services. He brought back prisoners from Iraq and he convinced a suicidal young man who was about to jump from the ninth floor to change his mind. He received everyone who came to visit him except for the last few years when Lonnie became a stricter gatekeeper. After defeating Foreman in Congo, he changed and went out to the streets and enthralled the children with his magic tricks.
He lived to be 74 but of that he was not in full control of his faculties for 32 years. Effectively, he was given only 42 years of good health. For all that he achieved in such a short time and with such limitations, he was indisputably The Greatest.
He said, "Boxing was just a means to introduce me to the world."