India Emerges as the Most Favourable Destination Even in Pandemic
With its business-friendly environment created by the measures of government, India has emerged as an attractive investment even during the pandemic. A list of recent investments include Google (topping the chart with an estimated US$ 10 billion), Walmart (US$ 1.2 billion), Foxconn (US$ 1 billion) among others. Hyundai Mobis expands its technical centre in India to strengthen software development of future vehicles. SGS Amazon's trusted partner in quality packaging, opens its first accreditation testing lab in India.  Axtria, a global leader in cloud software and data analytics for the life sciences commercial business, opens its first delivery centre in south India.
Google will invest $10 billion in India over the next five to seven years with the aim of consolidating its position in the digital ecosystem of the world's fifth-largest economy that is emerging as a battleground for global internet giants.
Chief Executive Officer of Alphabet Inc which owns Google, Sundar Pichai said that India has the local talent and access to a large market along with aspects of a strong entrepreneurial and venture capital foundation to build an ecosystem of its own.
India commissions submarine Optical Fibre Cable to Andaman & Nicobar Islands
Prime Minister of India Narendra Modi launched and dedicated to the nation on 10 August 2020, the submarine Optical Fibre Cable (OFC) connecting Andaman &Nicobar Islands to the mainland through video conferencing. The foundation stone for this project was laid by the PM on 30th December 2018 at Port Blair.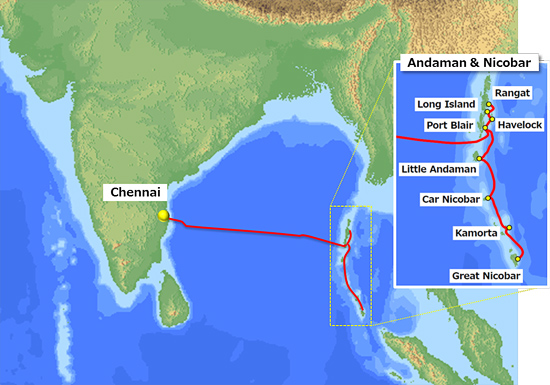 Prime Minister Narendra Modi said the connectivity would now enable endless opportunities in the islands. He said the laying of the 2300 KMs submarine cable and completing it before the set target is very praise worthy. The Prime Minister said that the service had begun on a major chunk of the islands from Chennai to Port Blair, Port Blair to Little Andaman and Port Blair to Swaraj Island. The Prime Minister admired the laying of cables for about 2300 kilometers under the sea as surveying in the deep sea, maintaining the quality of the cable and laying of the cable with specialised vessels is not an easy task. The project also had to overcome challenges such as high waves, storms and monsoons and the tough times owing to Corona Pandemic.
Financing facility for agri-entrepreneurs
Prime Minister of India Narendra Modi launched a financing facility of Rs 1 lakh crore under the Agriculture Infrastructure Fund for Agri-entrepreneurs, start-ups, Agri-tech players and farmer groups for post-harvest management and nurturing farm assets on 09 August 2020.
Modi also released the sixth instalment of Rs 17,100 crore to more than 8.55 crore farmer beneficiaries under the Pradhan Mantri Kisan Samman Nidhi (PM-KISAN) scheme.
The Prime Minister launched the new Agriculture Infrastructure Fund through video conference. Agriculture Minister Narendra Singh Tomar and senior ministry officials were also present on the occasion.
Last month, India's Union Cabinet had approved this fund as part of the over Rs 20 lakh crore stimulus package announced in response to the COVID-19 crisis.
The new fund, the duration of which will be 10 years till 2029, aims to provide medium-to-long term debt financing facility for investment in viable projects for post-harvest management infrastructure and community farming assets through interest subvention and financial support.
Under this, about Rs 1 lakh crore will be sanctioned under the financing facility in partnership with multiple lending institutions as loans to primary agri-credit societies, farmer groups, farmer producer organisations (FPOs), agri-entrepreneurs, start-ups and agri-tech players.
Under the fund, about 3 per cent interest subvention and credit guarantee of up to Rs 2 crore will be provided to the beneficiaries to increase the viability of the projects.
Loans will be disbursed in four years starting with sanction of Rs 10,000 crore in the current year and Rs 30,000 crore each in the next three financial years.
Further, credit guarantee coverage will be available for eligible borrowers from this financing facility under the Credit Guarantee Fund Trust for Micro and Small Enterprises (CGTMSE) scheme for a loan of up to Rs 2 crore. The fee for this coverage will be paid by the government.
The funds will be provided for setting up of cold stores and chains, warehousing, silos, assaying, grading and packaging units, e-marketing points linked to e-trading platforms and ripening chambers, besides Public-private partnership projects for crop aggregation sponsored by central/state/local bodies.
Under the PM-KISAN scheme, the government is providing annually Rs 6,000 in three equal instalments to 14 crore farmers. The amount is directly transferred into the bank accounts of the beneficiaries through direct benefit transfer (DBT) mode. /// nCa, 14 August 2020 (in cooperation with embassy of India, Ashgabat)