Elvira Kadyrova
Ashgabat, 18 November 2016 (nCa) — On Thursday, People's Artist of Turkmenistan Fakhriya Aliyeva was conferred with the high state award – the Order "Garaşsyz Türkmenistana bolan beýik söygüsiüçin" [For the Love to Independent Turkmenistan]. The ceremony, led by President Berdymuhamedov, was attended by the chairman of Parliament Akja Nurberdiyeva, several DPMs, minister of culture and other officials.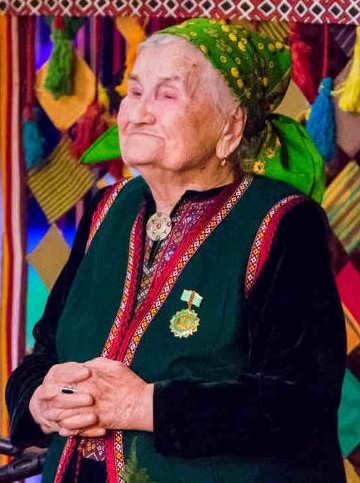 Fakhriya Aliyeva was born on 1 July 1922 in Kaahka district. In 1941 she graduated from the Moscow State Institute of Theater Arts named after Lunacharskyas, a drama and film actress. In 1974 she was awarded the title "People's Artist of Turkmenistan". In 1941-2006 she worked at the Turkmen State Drama Theatre named after Mollanepes.
Fakhriya Aliyeva is well known to audience for her roles in such performances as "Othello", "Zohre-Tahir", "Inspector", "Daughter-in-law arrived", "King Lear", "Japbaki" and in films "When a woman saddles up a horse", "Ruses of old Ashir," etc.
By this award ceremony Turkmenistan had proved again the following:
Honoring for the cultural heritage
Celebration of national diversity —Fakhriya Alieva is an ethnic Uzbek. Her creative activity had been praised by the President of Turkmenistan.
High respect for elders, serving as vivid example for youth.
"Turkmenistan pays great attention to the development of culture and art, revival of the national heritage and its preservation for future generations. The culture is the soul of the people", said President Berdymuhamedov.
Truly, culture, national traditions and art is an unbreakable link between the past and future generations, by which the nation transfers the best experience of creativity. /// nCa