Elvira Kadyrova
This week, the authorities of Kazakhstan and Uzbekistan discussed with Pakistan issues of transport connectivity within the framework of joint corridors that aim to connect South Asia with Central Asia, with access beyond the region.
On Wednesday, 12 July, President of Uzbekistan Shavkat Mirziyoyev and Prime Minister of Pakistan Shahbaz Sharif paid special attention to the promotion of the Trans-Afghan Railway construction project during a telephone conversation.
According to Uzbek experts, the Trans–Afghan railway along the Termez-Mazar–I–Sharif- Kabul-Peshawar route, connecting the South Asian railway system with the Central Asian and Eurasian, will benefit about 15 million people across  the region.
The rail line will be fully electrified, electric locomotives will run along the route. The capacity of the road will be up to 10 million tons per year with a growth prospect up to 15 million tons per year. Most importantly, it will take only 3-5 days to carry commodities from Pakistan to Uzbekistan instead of 35 days.
In turn, this will reduce the cost of transporting one TEU container by almost 3 times.
***
On Wednesday, 12 July 2023, Deputy Prime Minister – Minister of Trade and Integration of Kazakhstan Serik Zhumangarin met with Farrukh Shahzad Rao, the CEO of the National Logistics Cell (NLC), the leading multimodal logistics company in Pakistan.
In a follow-up of the discussions of road transit through Afghanistan, which took place during Zhumangarin's visit to Pakistan in December 2022, now the parties have met in Astana for a substantive exchange of views and initiatives on the development of trade and logistics opportunities between Kazakhstan and Pakistan.
According to Zhumangarin, the Pakistani ports of Gwadar, Karachi, and Qasim are of great interest to Kazakhstan, both to promote the export of its products to Pakistan and South Asian markets, and to increase the attractiveness of countries' transit potential to enter South Asian export markets.
He proposed several overland routes for the mutual supplies:
via Afghanistan, Turkmenistan, Uzbekistan, and using seaports through the Middle Corridor
via Iran
through China via the Karakoram Highway through Kyrgyzstan, China and further to Pakistan.
For their part, NLC representatives assured of their desire to intensify cooperation between the two countries, stating their readiness to provide recommendations and specific proposals on logistics.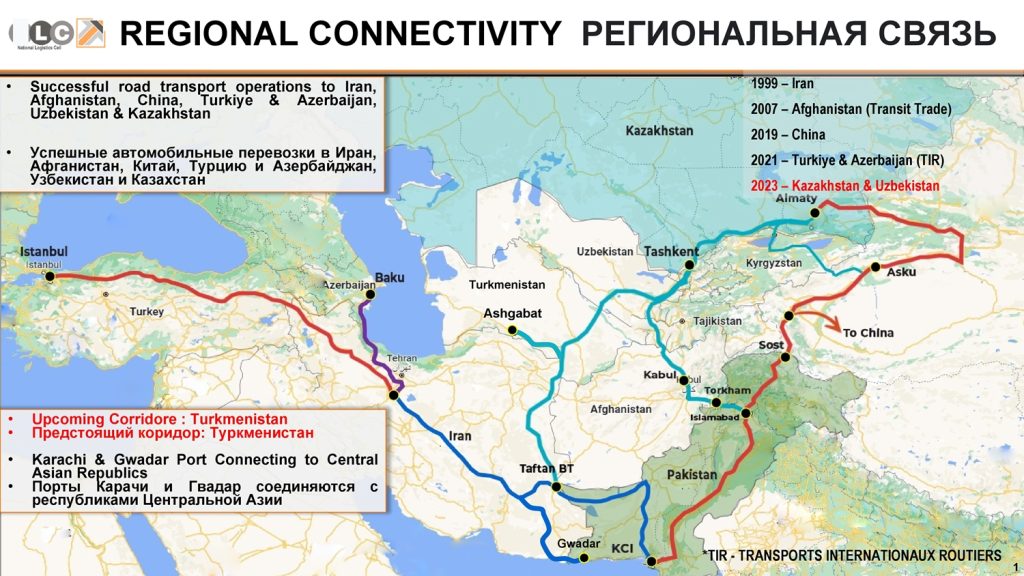 Credit – NLC
***
National Logistics Cell (NLC) is Pakistan's leading multimodal logistics organization with a rich history of providing diverse logistics solutions for over four decades. NLC uses multimodal modes of transport, including road, rail, sea and air, to provide integrated solutions.
The company sees great potential in linking the countries of Central Asia and South Asia, since this is the shortest way that connects Pakistan with world markets.
Shoaib Ahmed Khan, NLC General Manager Analytics, took part in the international transport conference in Ashgabat in May this year. Then, during his presentation, he noted that the company covers thousands of kilometers, including four border terminals, and if the cargo arrives at the Pakistani port of Gwadar, it can be delivered to Ashgabat in 5-7 days.
***
Why are South and Central Asia so essential to one another? With a population of 2 billion people, South Asia is a massive consumer market. With an annual GDP growth rate of 6-7%, it is the most rapidly developing sub-region. In turn, Central Asia, which has built industrial capacities through three decades of independence and has saturated home markets, is attempting to access overseas markets.
South Asia is also interesting for Central Asian countries in terms of access to the open seas. After all, landlocked countries spend 18% of export revenues on transportation costs. ///nCa, 15 July 2023
#South_Asia, #Central_Asia, #Pakistan, #Kazakhstan, #Uzbekistan, #landlocked_countries, #NLC, #connectivity, #transport, #logistics