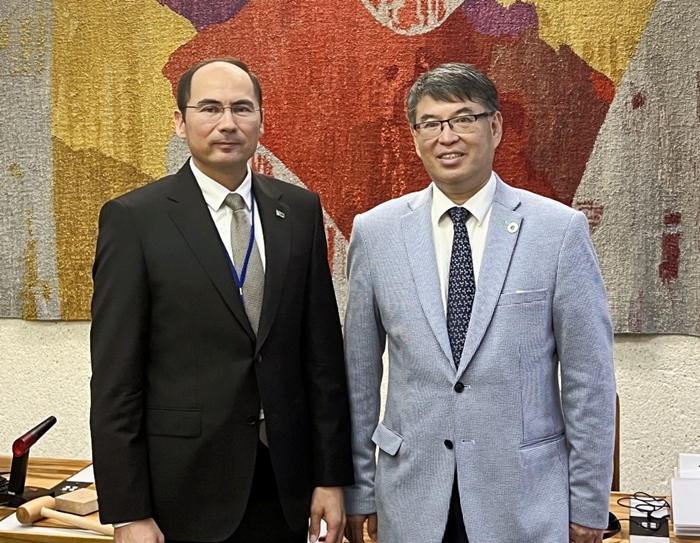 UNESCO may provide technical support to Turkmenistan in the field of digital education.  This was discussed during the meeting of Ambassador, Permanent Representative of Turkmenistan to UNESCO Maksat Charyyev with Director of the UNESCO Institute for Information Technologies in Education Tao Zhan, which took place on 9 June.
Director Tao Zhan praised Turkmenistan's commitment to enhancing educational opportunities through technology support. He emphasized UNESCO's dedication to fostering global partnerships and offered technical assistance, capacity building, and knowledge sharing to facilitate the implementation of effective digital education strategies in Turkmenistan.
During the meeting, various topics were discussed, including the importance of introducing information technology in curricula and the need to develop comprehensive digital literacy programs.
The Ambassador shared the initiatives and efforts of Turkmenistan to promote digital education and expressed interest in the expertise and support of UNESCO in further promoting these initiatives.
The UNESCO Institute for Information Technologies in Education was established as an integral part of UNESCO by the General Conference of UNESCO at its 29th session (November 1997) and is located in Moscow, Russian Federation. IITE is the only UNESCO сategory 1 Institute that holds a global mandate for ICT in education.
In line with the new Education 2030 Agenda, IITE has developed its strategic priority areas to meet new demands and tasks ahead. The mission of IITE in the new era is promoting the innovative use of ICT and serving as facilitator and enabler for achieving Sustainable Development Goal 4 (SDG 4) through ICT-enabled solutions and best practices. ///nCa, 10 June 2023
#UNESCO_Institute_for_Information_Technologies, #Turkmenistan, #Marksat_Charyyev, #digital_education, Tao_Zhan