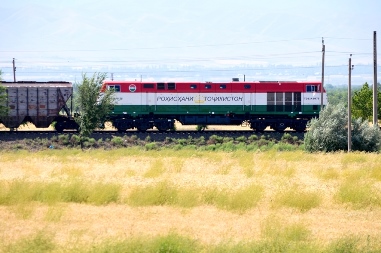 Tajikistan is seeking foreign capital for the feasibility study of the J. Balkhi-Jayhun-Panji Poyon railway construction project, informs the ministry of transport of Tajikistan in its press release of 10 January 2023.
A special study group of KOICA (Korea International Cooperation Agency) is visiting Tajikistan, 6-13 January 2023, to discuss the financing of the project implementation.
This visit is in response to a request made by Tajikistan in September 2022.
J Balkhi-Jayhun-Panji Poyon segment is part of the TAT Rail (Turkmenistan-Afghanistan-Tajikistan railway line), a trilateral undertaking meant to fill the gaps in the connectivity options in the region.
According to the earlier estimates, the construction of this section may cost USD 128 million.
Panji is a border checkpoint at the Tajik-Afghan border, near a bridge over the Pank River.
The groundbreaking ceremony on TAT Rail took place at Atamurat, a Turkmen town some 85km from the border point Imamnazara touching Afghanistan. The ceremony was held on 5 June 2013 in the presence of President Gurbanguly Berdimuhamedov of Turkmenistan, President Hamid Karzai of Afghanistan and President Imomali Rahmon of Tajikistan.
As announced during the groundbreaking ceremony, Turkmenistan was to build 85km Atamurat-Imamnazar section to bring the railway tracks to the border with Afghanistan, in the backend connecting with the railway system of Turkmenistan.
Turkmenistan was also committed to build the rail tracks 35km inside the territory of Afghanistan, bringing the line Aqina and Andkhoi.
Since then, Turkmenistan has fulfilled its commitment for both the sections.
Meanwhile, Tajikistan promised to prepare a study, finalize the route, and find investment for the construction of the segment in its own territory.
The Tajik section of the TAT Rail has been in limbo – first there was the internal debate on the route in the territory of Tajikistan and then there was the question of financing.
With the entire region focused on connectivity, perhaps Tajikistan is now ready to give a serious push to get the project moving.
* * *
The Korean National Railway (KNR) and the ministry of transport of Tajikistan are already cooperating with each other in the construction of urban trains in Dushanbe under a memorandum of understanding signed in March 2022.
Business Korea reported in March 2022 that under the agreement, the two organizations will operate a working group to share experience and know-how on the overall railroad construction, and provide information and advice on the design of the Dushanbe urban railway construction plan. /// nCa, 13 January 2023 [Featured image Wikipedia]