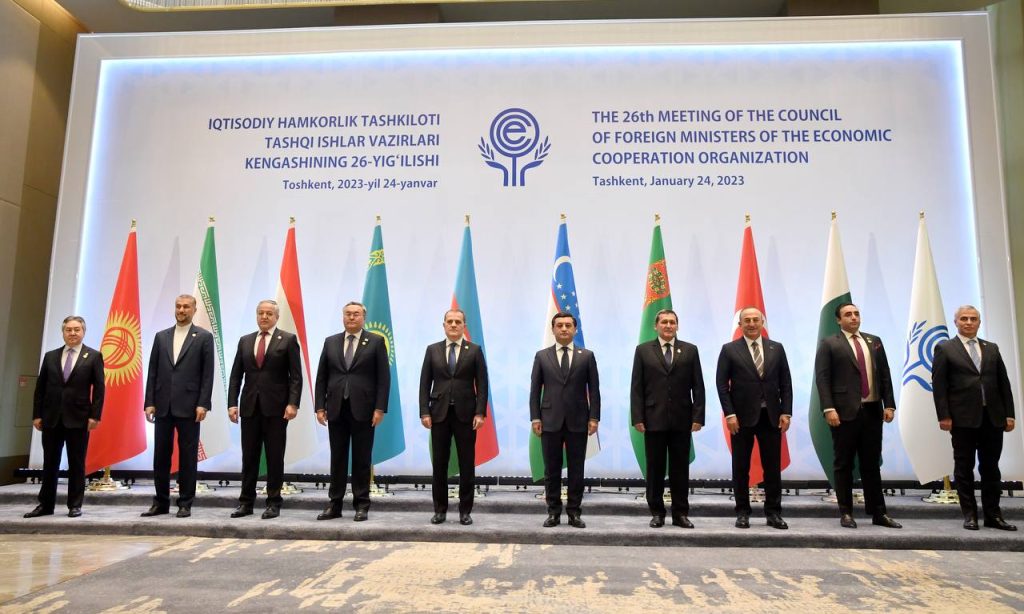 The 26th Meeting of the ECO Council of Ministers (COM) was held in Tashkent on 24 January 2023 under the chairmanship of the Acting Foreign Minister of Uzbekistan Bakhtiyor Saidov.
The event was attended by:
Foreign minister of Azerbaijan Jeyhun Bayramov

Foreign minister of Iran Hossein Amir Abdollahiyan

Foreign minister of Kazakhstan – Mukhtar Tleuberdi

Foreign minister of Kyrgyzstan – Jeenbek Kulubayev

Foreign minister of Pakistan – Bilawal Bhutto-Zardari

Foreign minister of Tajikistan – Sirodjiddin Mukhriddin

Foreign minister of Turkiye – Mevlut Cavusoglu

Foreign minister of Turkmenistan – Rashid Meredov

ECO Secretary General Khusrav Noziri,

Heads of specialized agencies, regional institutions and affiliated ECO bodies.
The meeting reviewed previous activities of the ECO as well as approved some fresh proposals as recommended by the Senior Officials who met on January 23, 2023, says ECO's press service.
Moreover, the Meeting adopted "Tashkent Communique" that focusses on enhanced regional cooperation and collaboration amongst the Member States.
The document further endorses ECO activities being undertaken to increase global visibility of the Organization as well as its working partnerships with other regional and international institutions.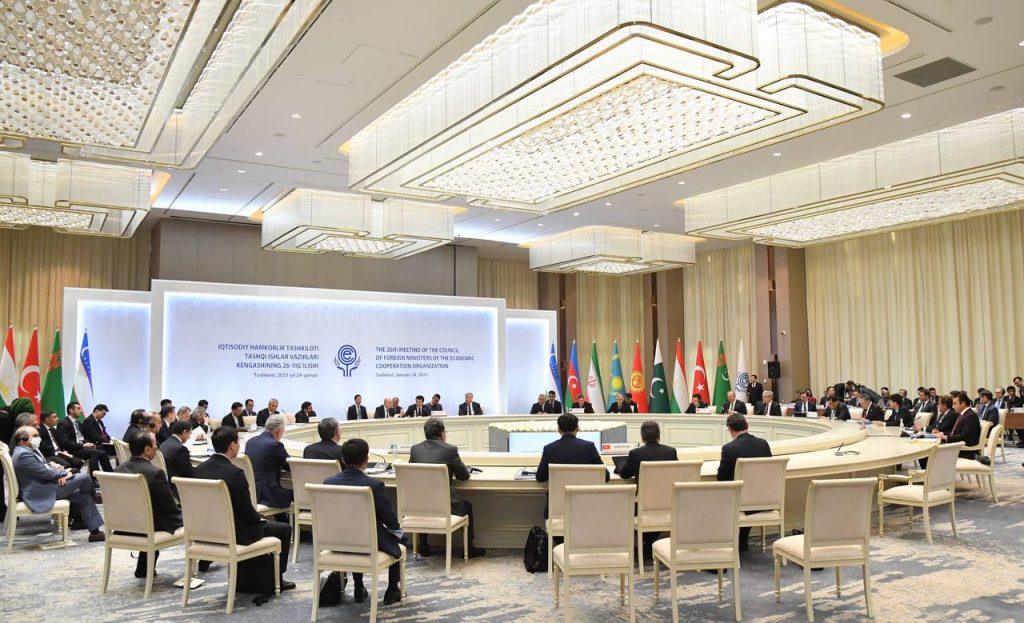 ECO supports new connectivity initiatives
The ECO countries agreed upon new initiatives to strengthen transport links, including Trans-Caspian routes as the Almaty-Istanbul corridor, the Organization's Secretary-General Khusrav Noziri told a press conference following the 26th meeting of the Council of the ECO Foreign Ministers in Tashkent, Uzbekistan, Kazinform reports.
Commending the ECO's work in 2022 the Secretary-General announced the key items of the agenda for further strengthening of the framework of regional economic cooperation.
According to him, the Tashkent Communique, adopted as the final instrument, the ECO countries unanimously agreed upon the ECO Regional Center's Charter on disaster risk management, regional cooperation expansion to ensure energy security and sustainable energy, creation of a high-level dialogue platform on environmental cooperation, enhancement of regional cooperation in food security, as well as new initiatives to strengthen transport links, including Trans-Caspian routes as the Almaty-Istanbul corridor.
Commercialization of the Kazakhstan-Turkmenistan-Iran corridor, commissioning of the Islamabad-Tehran-Istanbul cargo train, launch of the Kyrgyzstan-Tajikistan-Afghanistan-Iran corridor, commercialization of the Iran-Teheran-Istanbul-ECO, creation of railway and road networks from Almaty to Istanbul and Bandar Abbas, and increased border crossings between ECO member countries have been the main achievements since the Organization's expansion, said Noziri.
He continued by saying that preparations for the construction of two new important corridors—Kyrgyzstan–Uzbekistan–Turkmenistan–Iran and Tajikistan–Uzbekistan–Turkmenistan–Iran–Turkiye—that are expected to significantly improve regional connectivity started last year.  ///nCa, 25 January 2023