Turkmenistan repeats offer to host inter-Afghan peace dialogue
Ashgabat, 21 February 2017 (nCa) — An Afghan delegation led by Dr. Nasir Andisha, the deputy minister for foreign affairs is in Ashgabat to participate in the ceremonies and activities to mark 25 years of diplomatic relations between the two countries.
A media event was held Tuesday at the foreign office of Turkmenistan to high light the strong areas of partnership between the two countries.
Dr. Andisha and his Turkmen counterpart, Vepa Hajiyev, made statements to multifarious and robust nature of mutual interaction.
Andisha said that Afghanistan was among the first countries to recognize the independence of Turkmenistan. He said that the relations were always amicable but they picked pace during the past decade, expanding into new areas. "This relationship has seen steady increase at different levels of interaction," he said.
Speaking of TAPI, which is not only a mega project but also a mega concept, Andisha said that we started working on it from 1990s and after overcoming all kinds of difficulties we are now very close to the implementation stage. "This is the proof of our strong determination," said Andisha. He added that a contract was being signed today (21 February 2017) in Kabul between the German company ILF and the government of Afghanistan for consultation and management of TAPI. Soon after, similar agreement will be signed between Pakistan government and the German company in Islamabad.
He said, "We also touched on people to people relations." He pointed out that the government to government relations go back to just 25 years but people to people relations span not just centuries but millennia. "We are basically one people," he underlined.
In our discussions yesterday, we focused on four major areas of cooperation —– Security, Political, Economic, and Culture.
Andisha underlined the importance of the trade and transit of electrical energy, which will be supplied by Turkmenistan to several countries.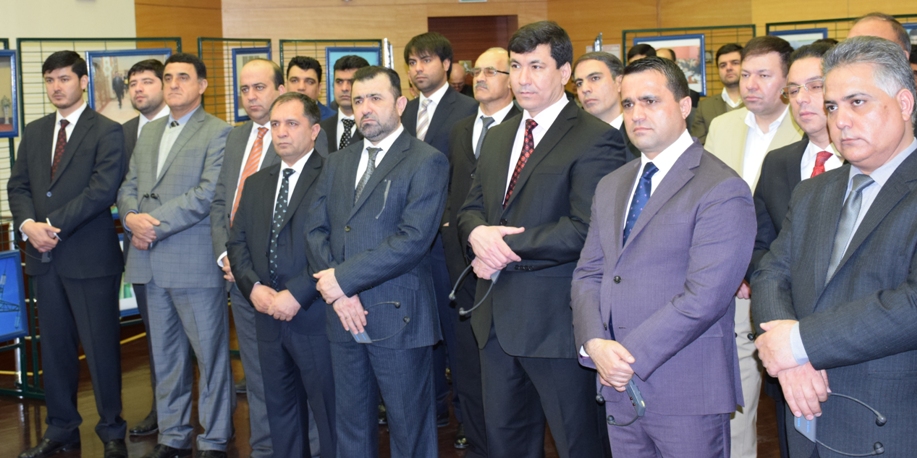 He said that both the sides stressed the importance of the pace and reconciliation process.
The Afghan deputy FM said that 2017 is already a very active year in terms of bilateral relations – the visit of President Ghani to Turkmenistan is planned, the regional economic cooperation meeting will take place in Ashgabat in November 2017 and the calendar is full of a number of other events.
He mentioned that the results of the recent presidential elections in Turkmenistan had guaranteed another seven years of stability.
The Turkmen deputy FM, Vepa Hajiyev underscored some important points in his speech.
Here is the summary of his speech:
"Today we celebrate 25thanniversary of establishment of diplomatic relations between Turkmenistan and Afghanistan.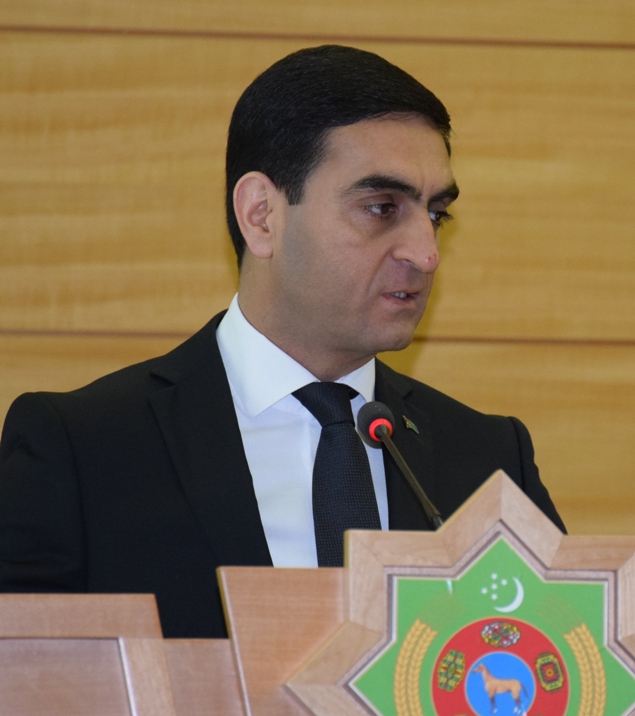 "I am grateful to Afghan delegation, led by deputy minister of foreign affairs of Afghanistan, Ahmad Nasr Andishfor the talks held in an atmosphere of openness and friendship.
"Diplomatic relations between Turkmenistan and Afghanistan were established on 21 February 1992. Bilateral relations with Afghanistan, country, which among first countries recognized the independence and neutrality of Turkmenistan, had been enriched by extensive experience.
"The visits at the level of heads of two states play important role in this process. Within last 10 years, the parties held total 13 state, official and working visits. A number of negotiations, which resulted in important agreements, had been hosted.
"We, in Turkmenistan, view with interest and support all the steps, done by the Afghan people towards peace and development.
"Turkmenistan has positive attitude to any news on conduct of several successive rounds of inter-afghan negotiations.
"Turkmenistan, within its neutral status, has undertaken a number of efforts to promote peace in Afghanistan, rehabilitation of social and economic system in the country.
"In this regard, Turkmenistan reaffirms its readiness to provide its political space for inter-Afghan talks under United Nations auspices. This initiative was put forward by Turkmenistan from the major international platforms and Turkmenistan attaches special importance to this initiative.
"Political relations between the two countries have being actively developing within the framework of UN. The sides support each other in nominating their candidatures in international organizations.
"Turkmenistan also is a proponent of the effective use of opportunities arising from international instrument of Istanbul process. As it is known, Turkmenistan, together with Azerbaijan, leads the activities under the frames of Regional Infrastructure Confidence Building Measure (CBM) of the Process. As part of these activities, vital projects in oil and gas, transport, power and other fields have been implemented. TAPI gas pipeline is one of them.
"In Turkmenistan, the construction of TAPI gas pipeline is carried out rapidly. Now, in these days Kabul hosts events dedicated to the launch of technical work on construction of TAPI pipeline segment within the territory of Afghanistan.
"On 14-15 November 2017 Ashgabat will host 7th Regional Economic Cooperation Conference on Afghanistan (RECCA VII). It was announced at the 6thRECCA conference in Kabul (3-4 September 2015).
"Electricity takes important place in trade and economic Turkmen-Afghan relations. This cooperation has been effectively realized since 2003.
"Turkmenistan exports electricity to Afghanistan by two directions: via Imamnazar (Turkmenistan) to Afghan provinces of Faryab, Jowzjan and Sar-e Pol and via Serhetabat (Turkmenistan) –to Afghan province of Herat. In order to increase the volume of electricity exports to Afghanistan, Turkmenistan carries out construction of additional power plants and facilities in Mary and Lebap provinces.
"On 13 December 2015, Turkmenistan, Afghanistan and Pakistan had signed a memorandum on power energy. According to this document, the parties agreed on the promotion of transit exports of Turkmen electricity to Pakistan via Afghanistan. And some technical works are underway in this field.
"Turkmenistan and Afghanistan, with a favorable geographical location, can play essential role in the establishment of trade and economic relationships in Asian continent. From this perspective, major international transport-communication projects aimed at the creation of transport corridors on directions North-South, East-West is of special importance.
In this aspect, we can mention commissioning of the railway Atamyrat-Imamnazar-Akina on 28  November 2016, which is a segment of the Asian international railway corridor. The partnership aimed at developing transport and transit corridors Afghanistan-Turkmenistan – Azerbaijan – Georgia – Turkey, Afghanistan – Turkmenistan – Kazakhstan has long-term nature.
Turkmenistan and Afghanistan realize fruitful cooperation in culture, education, health care.  Within the framework of bilateral agreements, hundreds of Afghan citizens study at universities and secondary vocational schools of Turkmenistan.
Turkmenistan has always supported the peaceful life of the Afghan people and in this regard, within its capacity, provides humanitarian assistance to the country. In particular, Turkmenistan, from own funds, has built schools and hospitals in Balkh, Herat, and Faryab provinces. Turkmenistan will continue work in this direction.
As you know, during expanded meeting of the Cabinet of Ministers on 18 February 2017, President Gurbanguly Berdymuhamedov has approved the foreign policy concept of Turkmenistan for 2017-2023.
This concept, based on the principle of permanent neutrality, envisages a number of plans to build up cooperation with neighboring countries, including Afghanistan. In this regard, we look forward to strengthening peace and security in Afghanistan and the creation of conditions for the happy life of the Afghan people. /// nCa