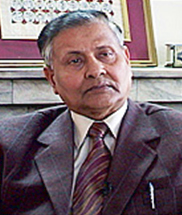 General Mirza Aslam Beg
Former COAS, Pakistan
Email: friendswriteup@hotmail.com
Altaf Hussain, the founding Chairman of Mutahida Qaumi Movement (MQM) through his three minutes outbursts on 22 August against Pakistan; the armed forces of Pakistan and the political leadership has caused a cloud burst effect on the domestic politics of Pakistan. Political sanity appears to bring stability and rapid change, which need to be watched and analyzed.
Altaf Hussain did something, which none else could do. His tirade has caused tectonic effect on MQM. Their leadership in Pakistan is under shock, watching brick-by-brick destruction of their offices, giving the impression that perhaps they were expecting such a thing to happen to provide the relief from the suffocating burden of loyalty to the leader who tried to create a cult of his own, than a political party which could relate to the mainstream politics. It all happened so unexpectedly that the MQM, the Sindh Government, other political parties and the government, took time to balance themselves in their response to this upset. The media remained busy sensationalizing the issue for the public, waiting for some sense to emerge out of this muddy situation.
The political will of the MQM thus has asserted itself, rejecting the policies of their leader. Now, they have to be careful about their safety, because amongst Altaf's loyalists are target killers and law-breakers who would target MQM Rabita Committee. Some banners have already appeared, threatening the Rabita Committee of dire consequences. The dissident groups of Aafaq and Mustafa Kamal distanced themselves from Altaf's politics, now have a level playing ground to project their politics, not very much different from Farooq Sattar's politics. The choice is theirs to go solo, or work as a team. However, there is a compelling demand on them by the citizens of Karachi, the province of Sindh and the people of Pakistan "return Karachi to its socio-political order" because no more you can blame Altaf or Moody for your sins.
The political leadership of Sindh gave a very non-political response to MQM, in their time of adversity, and is still busy demolishing MQM brick by brick. In fact, this was the time for them to reach-out to MQM to consolidate their political base in Sindh particularly at this point of time when PPP has withdrawn to Sindh gradually losing their status of a national party. A robust democratic system based on two competing national parties is the best option. Peoples Party now has to make a concerted effort to regain its élan as a national party. Bilawal alone cannot deliver. Bhutto charisma cannot work all the time.
Whereas it was the PML(N) which maintained a discreet silence during these stormy days and at an appropriate time declared "there will be no ban on MQM, and that whatever Altaf Hussain says or does, the MQM Karachi would not be held responsible." MQM therefore is indebted to PML(N) and is likely to support them, providing very significant political space to PML(N) in Sindh. PML(N), therefore may emerge as the only national party, having foothold in all the four provinces and that is why the PML(N) leadership now has the confidence to declare that they will sweep the 2018 elections. This is politics, which gives Nawaz Sharif an edge over Asif Ali Zardari.
The other political parties, making noises on the streets are wasting their time. As in war, so is the maxim in politics that "do not repeat a failure." Their failure at 'D' Square last year is being repeated now with diminishing return. PTI has suffered losses in the bye-elections, which indicate its steep decline. And now Imran has decided to march on Raiwind on 24th September, perhaps to commit political suicide. He better device a new strategy to put logic into his protests.
Pakistan now has entered into an interesting phase of its life. Internally domestic politics is gaining sanity. PML(N) may also opt for early elections or elections 2018, to win hands down.  Thus a peaceful regime change would take place. Political stability, supported by socio-economic gains, would mean progress towards distributive justice. Externally, the struggle for freedom of the People of Kashmir and Afghanistan will soon be reaching its logical end, forcing retreat on India and USA towards the Trans-Pacific Partnership (TPP) regime, to fortify the Asian Pivot against rising China. For Pakistan, the emerging partnership between Russia, China, Pakistan and Iran (RCPI) would bring durable peace in the region, resting on the strategic pivot of Afghan resistance.