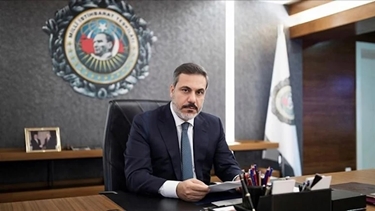 After inauguration for his third term as the president of Türkiye, President Erdogan has changed the vice president and 15 of the 17 ministers of his cabinet.
Hakan Fidan has been appointed as the minister of foreign affairs in place of Mevlut Cavusoglu.
Hakan Fidan, born in Ankara in 1968, has had a fascinating career. In various stages of his life, he has been a soldier, a bureaucrat, an academic, a politician, and for the last 13 years the chief spymaster.
He worked from from 1986 to 2001 as a non-commissioned officer in the Turkish Armed Forces, reaching the rank of sergeant major. During this period, he studied at the KK Combat School and KK Language School.
In 2001, he left the military voluntarily and went to the University of Maryland (USA), where he got a bachelor's degree. He received his master's degree from the Bilkent University in Ankara. His thesis was titled "The role of intelligence in Foreign Policy."
He did his doctorate in 2006. The theme of his doctorate thesis was: "Diplomacy in the Information Age: The Use of Information Technologies in Verifying Treaties."
He continued his academic activities at the International Atomic Energy Agency in Vienna, the United Nations Institute for Disarmament in Geneva, and the Verification Technologies Research Center in London. He worked as an academician at Hacettepe and Bilkent Universities.
Fidan, who also worked at the NATO Rapid Reaction Corps Headquarters in Germany, served as a senior political and economic consultant at the Australian Embassy in Ankara for two years, starting from 2001. In 2003, he was appointed as the head of the Prime Ministry Turkish Cooperation and Development Administration (TIKA).
He was appointed as the deputy undersecretary of the prime ministry in 2007, and a member of the board of IAEA in 2008.
From 2008 to 2011, he was also the member of the board of trustees of the International Ahmed Yesevi University, Kazakhstan.
In 2010, he was appointed as the deputy undersecretary of the National Intelligence Organization (MIT), and became undersecretary for MIT later the same year. At 42, he was the youngest MIT undersecretary in the history of the country.
He continued as the MIT head until being appointed as the foreign minister on 3 June 2023.
He is married to Nuran Fidan and has three children. /// nCa, 5 June 2023
#Turkiye, #Turkey, #Hakan_Findan, #foreing_minister_of_Turkey