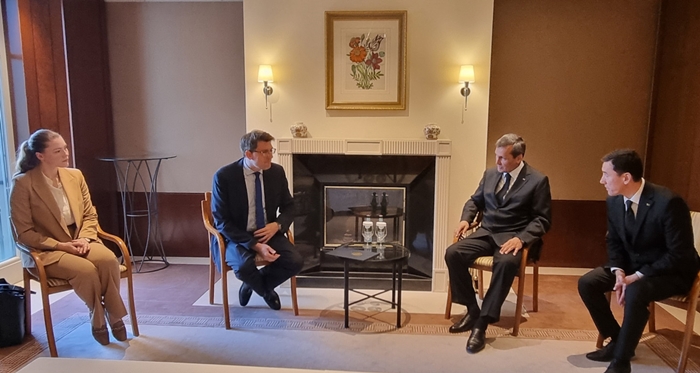 On September 29, 2023, in the framework of working visit of the National Leader of the Turkmen people, Chairman of the Halk Maslahaty of Turkmenistan Gurbanguly Berdimuhamedov to Germany, the Minister of Foreign Affairs of Turkmenistan Rashid Meredov held a meeting with the Commissioner of the Federal Ministry of Foreign Affairs of Germany for Eastern Europe, the Caucasus and Central Asia Matthias Luttenberg.
During the meeting, the parties discussed a wide range of issues and outlined prospects for bilateral cooperation.
In the context of the development of political and diplomatic relations, the parties advocated further expansion of contacts at the highest and governmental levels.
Effective partnerships were noted on international platforms, primarily through the UN. In this context, gratitude was expressed to the German side for supporting the resolutions and international initiatives of Turkmenistan. The parties also emphasized the importance of the multilateral dialogue between Germany and the countries of Central Asia in the "Central Asia + Germany" format.
The format of inter-Ministry of Foreign Affairs consultations was highlighted as an important tool for intensifying Turkmen-German relations.
During discussions of ways of trade and economic cooperation, the parties advocated intensifying the work of the Joint Turkmen-German Group on economic cooperation, holding Economic Days and business forums, as well as strengthening cooperation with the Eastern Committee of the German Economy.
At the same time, among the most important areas of partnership were identified the gas chemical industry, "green" energy, attraction of German technologies and investments in promising areas of the economy of Turkmenistan, agriculture and water management.
In the context of the development of cultural and humanitarian ties, was expressed opinions on intensifying interaction in education, in particular, the expansion of educational programs and teaching the German language in Turkmenistan. Also, the sphere of culture, archeology and museum affairs, as well as healthcare were highlighted as current areas of cooperation.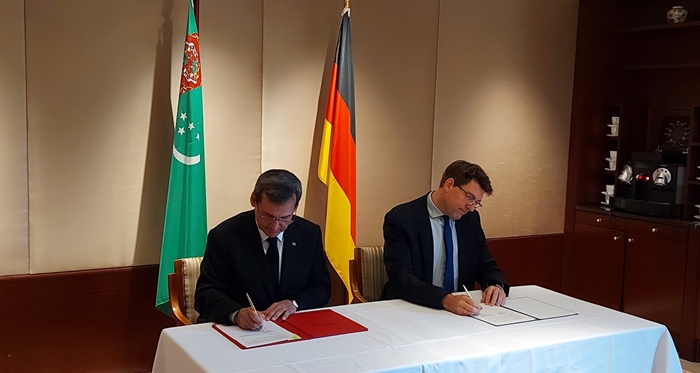 As a result of the meeting, a Joint Declaration was signed between the Ministry of Foreign Affairs of Turkmenistan and the Federal Ministry of Foreign Affairs of Germany. ///MFA Turkmenistan, 2 October 2023
#Turkmenistan, #Germany, #RashidMeredov