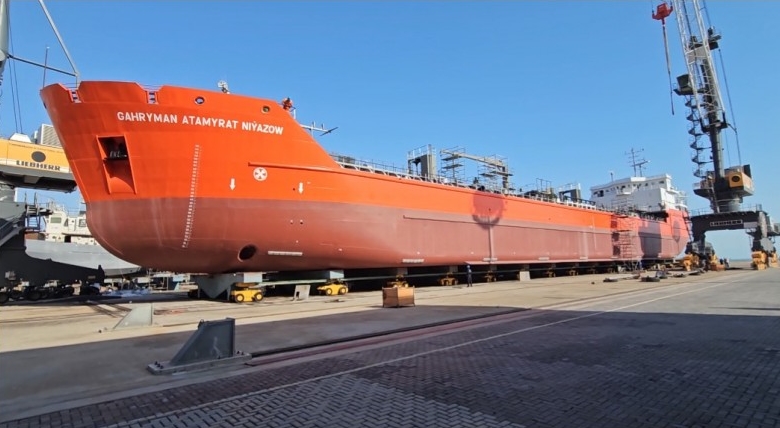 On 18 September 2023, the Agency of Marine and River Transport of Turkmenistan "Turmendenizderyayollary" held a meeting with representatives of the Islamic Development Bank (IsDB) and the Singapore Port.
As earlier reported, the IsDB plans to finance the construction of two Ro-Pax ferries for the national merchant fleet of Turkmenistan under an agreement between the Government of Turkmenistan and the IsDB.
Turkmenistan to realize shipbuilding project worth over US $ 150 million
https://www.newscentralasia.net/2022/01/24/turkmenistan-to-realize-shipbuilding-project-worth-over-us-150-million/
Within the framework of this project, an agreement was signed with the IsDB on a grant for the capacity improvement and development of the Turkmenbashi International Seaport.
During the meeting, the parties discussed issues and tasks related to the IsDB-funded project for the development of maritime transport in Turkmenistan. The main objectives of the financing are to develop and stimulate the country's shipbuilding industry, improve the national merchant fleet, develop the potential of maritime transport, and train personnel.
Representatives of the Singapore Port gave a presentation on the development of the Turkmenbashi International Seaport, highlighting the tasks of increasing the seaport's potential and competitiveness.
Turkmenistan and Singapore have been cooperating in the field of port development since 2022, with one of the main areas of focus being the development of marketing at the Port of Turkmenbashi.
A special working group has been created for this purpose, including representatives of the "Turmendenizderyayollary" agency and the Turkmenbashi International Seaport. The project provides for trainings and visits of group members to Singapore. ///nCa, 21 September 2023
#Turkmenbashi_seaport, #IDB, #Singapore, #portdevelopment, #Turkmenistan