On 22 May 2023, UK Ambassador to Turkmenistan Stephen Conlon presented his credentials at the Ministry of Foreign Affairs of Turkmenistan.
He was received by Acting Minister of Foreign Affairs of Turkmenistan Vepa Hajiev.
The sides discussed a wide range of issues related to political, diplomatic, trade, economic, cultural and humanitarian spheres.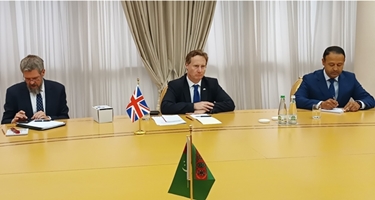 It was stated that bilateral cooperation between Turkmenistan and the United Kingdom is developing based on the principles of respect, equality and mutual benefit.
In this context, Hajiev stressed that an important event in interstate relations was the participation of President of Turkmenistan Serdar Berdimuhamedov in the coronation ceremony of King Charles III on 6 May this year in London.
The Turkmen side also noted that Turkmenistan attaches great importance to parliamentary diplomacy. It was proposed to focus on the further development and strengthening of inter-parliamentary ties.
The similarity or closeness of the positions of the two countries on the most important issues of international and regional policy was noted.
His Majesty's Ambassador to Turkmenistan: Stephen Conlon
Curriculum vitae
Full name: Stephen Austin Conlon
Married to: Ruta Conlon (née Taraskeviciute)
Children: Two
2022 to present               Full Time Language Training (Russian)
2020 to 2022     Brussels, UK Mission to the EU, Head of European Parliament Team
2017 to 2020     United Kingdom Permanent Representation to the European Union, Head of European Parliament Team
2014 to 2017     United Kingdom Permanent Representation to the European Union, Food Safety and Veterinary Attaché
2009 to 2014     Vilnius, Deputy Head of Mission, Chargé d'Affaires and Her Majesty's Consul
2004 to 2008     Helsinki, Director of UK Trade and Investment
2004      FCO, Desk Officer, EU Department (Internal), later Full Time Language Training (Finnish)
2003      Stockholm, Trade Attaché
2001 to 2003     FCO, Desk Officer for EU Environment & Food Safety, EU Department (Internal)
199 to 2001        The Organisation for Economic Co-operation and Development, United Nations Economic Commission for Europe and the World Economic Forum, Desk Officer, Economic Policy Department ///nCa, 23 May 2023