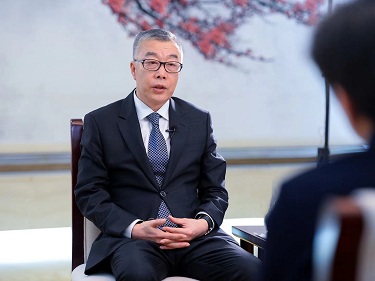 Qian Naicheng, Ambassador of China to Turkmenistan
1. The 20th National Congress of the Communist Party of China is a meeting of great importance. It takes place at a critical time as the entire Party and the Chinese people of all ethnic groups embark on a new journey to build China into a modern socialist country in all respects and advance toward the Second Centenary Goal.
2. From this day forward, the central task of the Communist Party of China will be to lead the Chinese people of all ethnic groups in a concerted effort to realize the Second Centenary Goal of building China into a great modern socialist country in all respects and to advance the rejuvenation of the Chinese nation on all fronts through a Chinese path to modernization.
3. To build a modern socialist country in all respects, we must, first and foremost, pursue high-quality development. Development is our Party's top priority in governing and rejuvenating China, for without solid material and technological foundations, we cannot hope to build a great modern socialist country in all respects.
4. We must regard science and technology as our primary productive force, talent as our primary resource, and innovation as our primary driver of growth. We will fully implement the strategy for invigorating China through science and education, the workforce development strategy, and the innovation-driven development strategy. We will open up new areas and new arenas in development and steadily foster new growth drivers and new strengths.
5. People's democracy is the lifeblood of socialism, and it is integral to our efforts to build a modern socialist country in all respects. Whole-process people's democracy is the defining feature of socialist democracy; it is democracy in its broadest, most genuine, and most effective form.
6. This country is its people; the people are the country. As the Communist Party of China has led the people in fighting to establish and develop the People's Republic, it has really been fighting for their support.
7. Unity is strength, and only in unity can we succeed. To build China into a modern socialist country in all respects, we must unleash the tremendous creativity of the Chinese people in their hundreds of millions.
8. Full and rigorous self-governance is an unceasing endeavor and that self-reform is a journey to which there is no end. We must never slacken our efforts and never allow ourselves to become weary or beaten. We must persevere with full and rigorous self-governance, continue to advance the great new project of Party building in the new era, and use our own transformation to steer social transformation.
9. Taiwan is China's Taiwan. Resolving the Taiwan question is a matter for the Chinese, a matter that must be resolved by the Chinese. The wheels of history are rolling on toward China's reunification and the rejuvenation of the Chinese nation. Complete reunification of our country must be realized, and it can, without doubt, be realized!
10. Just as China cannot develop in isolation from the world, the world needs China for its development. China will open its door wider to the rest of the world.
11. We should expand our global vision and develop keen insight into the trends of human development and progress, respond to the general concerns of people of all countries, and play our part in resolving the common issues facing humankind. With an open mind, we should draw inspiration from all of human civilization's outstanding achievements and work to build an even better world.
12. Chinese modernization offers humanity a new choice for achieving modernization. The Communist Party of China and the Chinese people have provided humanity with more Chinese insight, better Chinese input, and greater Chinese strength to help solve its common challenges and have made new and greater contributions to the noble cause of human peace and development.
13. The CPC has consistently called on the people of the world to grasp and shape the future and destiny of humanity.
14. Building a human community with a shared future is the way forward for all the world's peoples. An ancient Chinese philosopher observed that "all living things may grow side by side without harming one another, and different roads may run in parallel without interfering with one another." Only when all countries pursue the cause of common good, live in harmony, and engage in cooperation for mutual benefit will there be sustained prosperity and guaranteed security.
15. We sincerely call upon all countries to hold dear humanity's shared values of peace, development, fairness, justice, democracy, and freedom; to promote mutual understanding and forge closer bonds with other peoples; and to respect the diversity of civilizations. Let us allow cultural exchanges to transcend estrangement, mutual learning to transcend clashes, and coexistence to transcend feelings of superiority. Let us all join forces to meet all types of global challenges. /// nCa, 28 October 2022 (in cooperation with Embassy of China in Ashgabat)