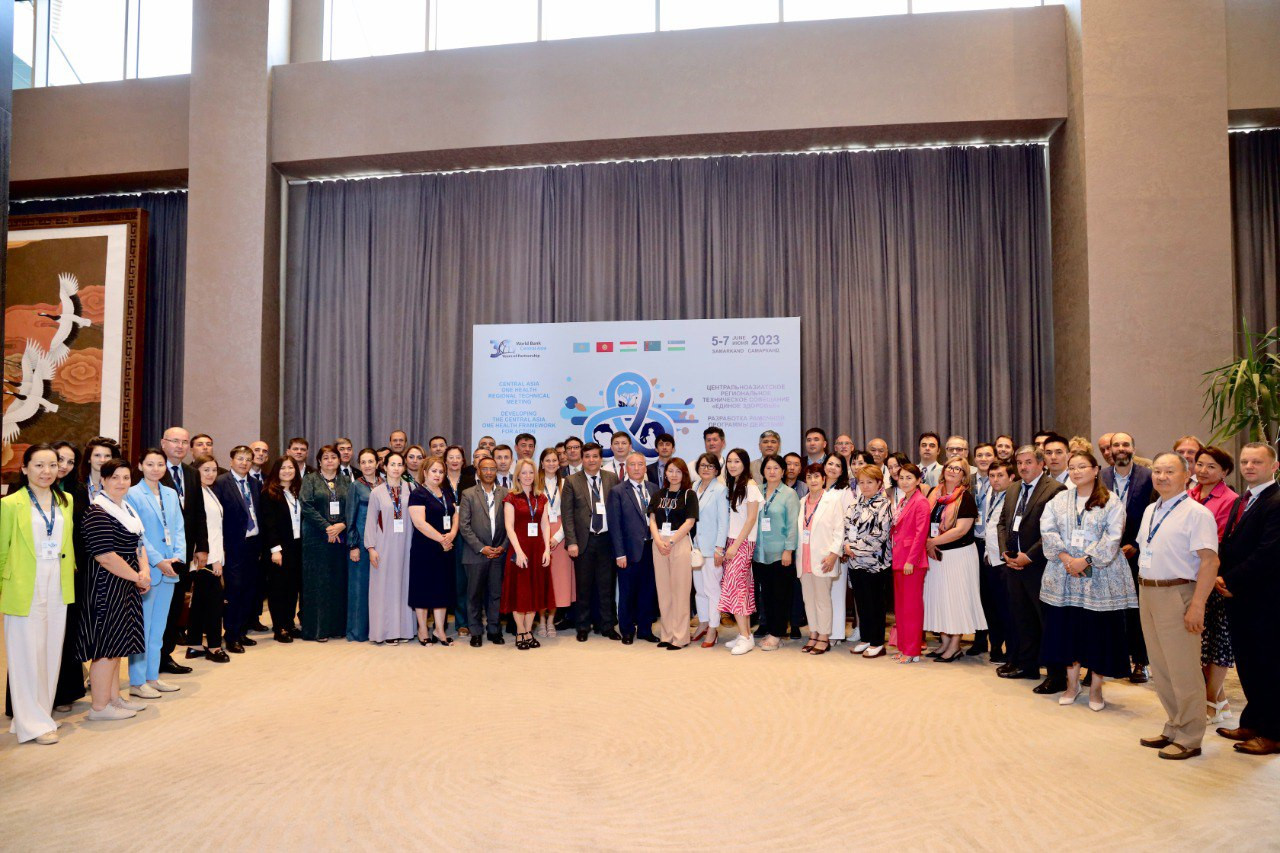 Government officials representing health, environment, agriculture and finance sectors from countries across Central Asia participated in the One Health Regional Technical Workshop, entitled Developing the Central Asia One Health Framework for Action that took place in Samarkand today.
The discussion focused on the early assessment findings of the Central Asia One Health Framework for Action, which aims at providing direction and coordination mechanisms for regional cooperation to address needs in the areas of zoonotic diseases, antimicrobial resistance, and food safety. Participants also got acquainted with the findings of a new comprehensive report prepared by the World Bank "Protecting Food Systems, Preventing Future Pandemics: The Case for a Central Asia One Health Program." The workshop reviewed the recommendations from five regional assessments and provided a valuable platform for participants to collaboratively generate practical strategies for implementing the One Health approach at both national and regional levels.
The report shows that One Health approach is cost-effective for countries and the region.  According to a World Bank analysis, annual investments of $1.9 to $3.4 billion in One Health systems (based on disease prevalence) by the international community can generate a 44-71 percent annual expected rate of return and prevent mild pandemics by half or entirely.
Central Asia is particularly vulnerable to emerging infectious disease outbreaks as it is located at an intersection of global value chains with countries that rely heavily on labor migration. Across the region, animal diseases have a detrimental impact on productivity, regional food supply, and agricultural competitiveness. The region also has a unique advantage to prevent and tackle future disease outbreaks due to the shared epidemiological past of the countries. The region already has a foundation for implementing One Health – a collaborative approach that brings agriculture, environment, and public health sectors together to prevent, detect, respond to, and recover from infectious diseases. Implementing a Framework for Action will require building on this foundation to further strengthen regional cooperation and complement this with investments and capacity building.
"A comprehensive response to implementing a One Health approach will only be possible through regional high-level commitment and coordinated action, in collaboration with international and local partners," said Jane Ebinger, World Bank Sustainable Development Sector Leader. "While Central Asian governments would ensure national ownership and technical and financial sustainability of a One Health regional initiative, international partner organizations may be asked to consider providing coordinated support".
In November 2022, Kazakhstan, Kyrgyz Republic, Uzbekistan, Tajikistan and Turkmenistan signed a joint communiqué "Protecting food systems and preventing pandemics in Central Asia" to formally initiate the development of the Central Asia One Health Framework for Action. The Framework is being designed as an investment framework to support Central Asian countries in achieving three key high-level goals: pandemic prevention, resilience of food systems and agriculture, and regional trade and competitiveness. The joint communiqué also included a call for collective resource mobilization to support the implementation of this important initiative.
Among the workshop participants in Samarkand were representatives from the Food and Agriculture Organization (FAO), World Organization for Animal Health (WOAH), UN Environment Program (UNEP), and the World Health Organization (WHO). ///World Bank, 5 Jun
#Central_Asia, #World_Bank, One Health, Turkmenistan, Kazakhstan, Kyrgyzstan, Uzbekistan, Tajikistan