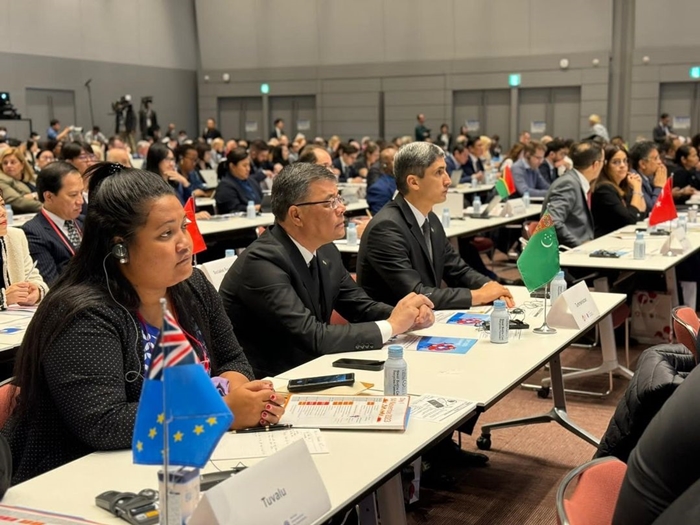 The ceremony for handing over the land plot for the construction of Turkmenistan's National Pavilion at the World Expo 2025 took place in Osaka. The Organizing Committee presented the relevant documentation to the Turkmen delegation, led by Minister of Trade and Foreign Economic Relations B. Gochmollaev.
A delegation from Turkmenistan actively participated in the International Participants Meeting of the World Expo 2025, held in Osaka, Japan, from 14 to 16 November 2023, the Embassy of Turkmenistan to Japan reports.
During the event, the Turkmen delegation held a series of key meetings with influential figures, including Mr. Demetrius Kerkenzes, Secretary General of the International Bureau of Exhibitions; Mr. Ishii Taku, Parliamentary Vice Minister of Economy, Trade, and Industry of Japan; Mr. Ishige Hiroyuki, Secretary General of the Japan Association for World Expo 2025; and representatives from leading Japanese companies.
One of the main topics of discussion was Turkmenistan's progress in preparing for the World Expo 2025. The Japanese side commended Turkmenistan's active participation and expressed appreciation for the timely submission of relevant documents.
In recognition of Turkmenistan's leadership role in the preparations for the World Expo 2025, the Japanese side highlighted the country's timely submission of all necessary documents. This underscores Turkmenistan's position as a key participant in international events and strengthens the partnership between the two countries. ///nCa, 17 November 2023
#EXPO2025, #Turkmenistan, #Japan