President of Turkmenistan Serdar Berdimuhamedov stressed the expediency of interested departments and representatives of the Turkmen business community studying the possibilities of Astrakhan special economic zones for expanding investment cooperation between Turkmenistan and the Astrakhan region of the Russian Federation.
This was discussed at a meeting on Monday, 25 September, between President Serdar Berdimuhamedov and Governor of the Astrakhan region Igor Babushkin, TDH reports.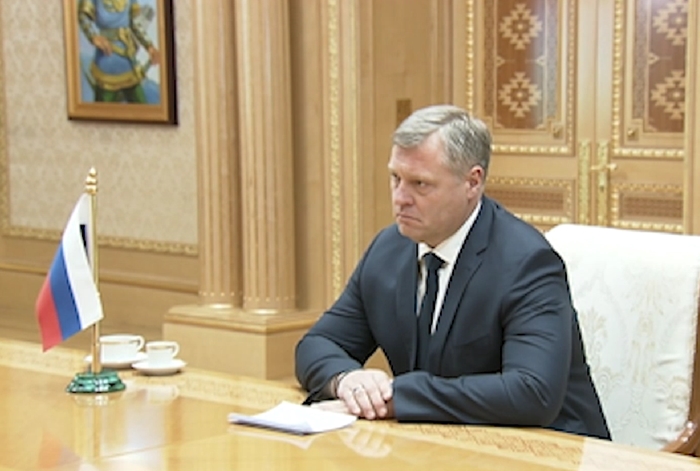 During the meeting, the sides exchanged views on the current state and priorities of cooperation, including in the trade and economic sphere.
President Serdar Berdimuhamedov noted that strengthening and further expansion of constructive dialogue with Russia, including with its regions, is one of the priorities of Turkmenistan's foreign policy.
The parties noted the existence of common goals in the field of expanding the range of products in mutual trade. In this regard, it was emphasized that the Turkmen side is interested in establishing closer contacts between representatives of the business community.
It was noted that in the future, the maximum realization of the potential of the International Seaport of Turkmenbashi will be very much in demand.
President Serdar Berdimuhamedov expressed readiness to consider constructive proposals on the use of transport and transit opportunities between the port of Turkmenbashi and the ports of the Astrakhan region.
In turn, Babushkin stated that in Turkmenistan, where a favorable investment climate has been created, well-known Russian companies are actively working, together with which a number of important projects in various fields have been implemented.
Earlier, a delegation headed by the Governor of St. Petersburg Alexander Beglov visited Turkmenistan.///nCa, 26 September 2023
#Turkmenistan, #Russia, #Astrakhanregion, #Turkmen-Russian_relations